Mikel Arteta worried about relying on in-form Aubameyang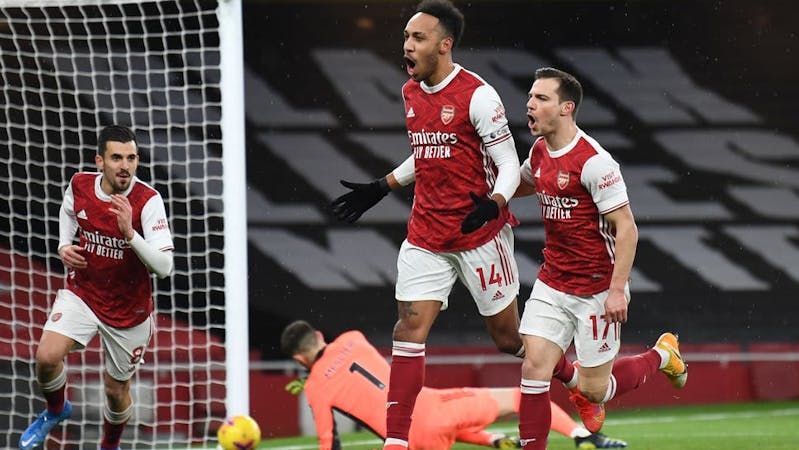 HI
By Harrison Ifeanyichukwu
Arsenal head coach Mikel Arteta is worried about relying on in-form Aubameyang following his hattrick on Sunday evening against Leeds United.
Aubameyang returned to the Arsenal starting lineup and helped his team secure their first win in their last four games in the league.
Aubameyang's performance in yesterday's win against Leeds United highlighted a hungry player ready to put behind him the bad times and struggles and make up for the lost times.
Aubameyang scored his first Premier League hat-trick to help Arsenal secure a 4-2 victory against Leeds United at the Emirates stadium.
Aubameyang netted his first Premier League hat-trick, and will hope to continue his scoring form
Aubameyang's struggles this season
Before the game, he only had 5 goals, and 1 assist after 23 games into the season. It highlights Mikel Arteta's overall team performance, as they have lacked creativity despite having an impressive defensive record.
In the past two seasons in the Premier League, Aubameyang scored 22 goals each. He is never shy of goals, but this season, the unthought-of is happening.
Added to his struggles for goals, Aubameyang recently took some time off the football to attend to his sick mum. He missed three Arsenal matches in that period before coming on as a substitute against Wolves and Aston Villa.
Aubameyang has not started a game for Arsenal since 19th of January. He last started a Premier League game against Newcastle United, which they won 3-0 thanks to two goals from him and the third from Bukayo Saka.
Arsenal has been winless in their last 3 Premier League matches. This win against Leeds United helps put some pressure off Mikel Arteta and the team overall.
Aubameyang looked invigorated in the game yesterday and put so much pressure on Leeds defenders. He capped his performance with a hat-trick to the delight of Mikel Arteta.
Arteta knows that a big part of their success relies on Aubameyang, the last year's FA Cup hero. He would hope that Aubameyang's goal-scoring form continues till the end of the campaign and as they start their Europa League fight against Benfica on Thursday.
Arteta said after the game:
"We know that a big part of our future success is related to Auba being at his best and scoring as many goals as possible. If he is in that kind of form we're going to be closer to winning football matches, that's clear.
But his is worried about relying on just Aubameyang and said the team couldn't solely rely on him to save them from the waters all the time.
"We can't just rely on him, but he's a big piece of our parcel, and you saw today again today when he's firing he's a tough player to play against."
The need for others to step up
Aubameyang is not the only the attacking player at Mikel Arteta's disposal. Arsenal's signing of Willian looks to be the worst signing of the season. Willian currently has 0 goals in his Arsenal career so far.
The stats are just underwhelming, and not what many had taught could happen. Arteta would need to get the best of the rest of the attackers to have a chance of making to the European stages next season.
Arsenal Players Goal Contributions in the Premier League

| Player | Goals | Assists |
| --- | --- | --- |
| Pierre Aubameyang | 8 | 1 |
| Alexandre Lacazette | 8 | 2 |
| Nicolas Pepe | 4 | 0 |
| Willian | 0 | 3 |
Nicolas Pepe has been in fine form lately but was surprisingly dropped from the starting lineup against Leeds United yesterday.
It was surprising to see because Arteta recently admitted how Pepe's commitment level and overall efficiency has improved.
The likes of Pepe, Lacazette and Willian will have to step up and help lift the burden on Aubameyang.
Arsenal does not have midfielders that can score goals. Players like Granit Xhaka, Dani Ceballos, and Elneny are not efficient in scoring goals.
Yesterday's combinational play and understanding between Bukayo Saka, Emile Smith Rowe, Aubameyang, Dani Ceballos and the new boy from Real Madrid Odegaard would delight Mikel Arteta.
They will have to build on that in the next coming games, while they hope for the return of Kierran Tierney and Thomas Partey.