Terem Moffi is currently Europe's 3rd worst finisher while Mourinho's Tammy Abraham is 1st
By Innocent Benjamin
After a banner debut campaign in France, Terem Moffi has seriously underperformed for Lorient this season.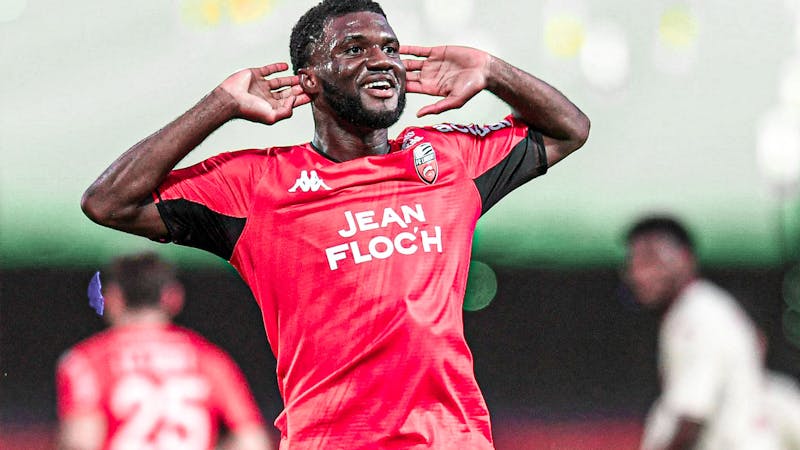 Nigerian striker, Terem Moffi, has been statistically confirmed as the 3rd worst finisher in Europe's top leagues this season according to new data.
This definitive conclusion was drawn using the non-penalty expected goal metric, and it attributed the Lorient forward with a NPXG of 3.9, while the striker has only been able to produce one goal from open-play.
This difference of -2.9, although minute to an untrained eye, is a very significant value in determining a player's finishing ability. It shows that Moffi is expected to have scored at least 4 goals according to the number of gilt-edged chances presented to him. 
However, Moffi has immensely underperformed, scoring only 1 goal in that period. His goal return percentage classes behind only Roma's Tammy Abraham and Lille's Burak Yilmaz, who have a worse difference than the 22-year-old.
Moffi was Lorient's Player of the Season last year
Last season, Moffi who was Lorient's Player of the season scored 1.3 more goals than he was expected to and this tiny margin might have been signs of potential profligacy in his game. This wastefulness was however not costly, as Lorient survived relegation by a hairbreadth of two points.
However, Moffi appears to be making up for his poor finishing with better creativity. The Calabar-born forward now has three assists, one more than he managed in the entirety of last season.
Moffi's inability to convert chances has seen him fail to score in each of his last seven matches which has consequently cost him his place in Nigeria's last national squad of the calendar year.
Lorient currently sit just three points above the dreaded relegation places in Ligue 1 and will be hoping for a renaissance from their hitman when they visit fellow stugglers, Angers, after the international break.