Ole Gunnar Solksjaer - What went wrong at Manchester United?
By Innocent Benjamin
Ole Gunnar Solksjaer became the sixth managerial casualty in the Premier League on Sunday. But after a 2nd place finish last term, what went wrong?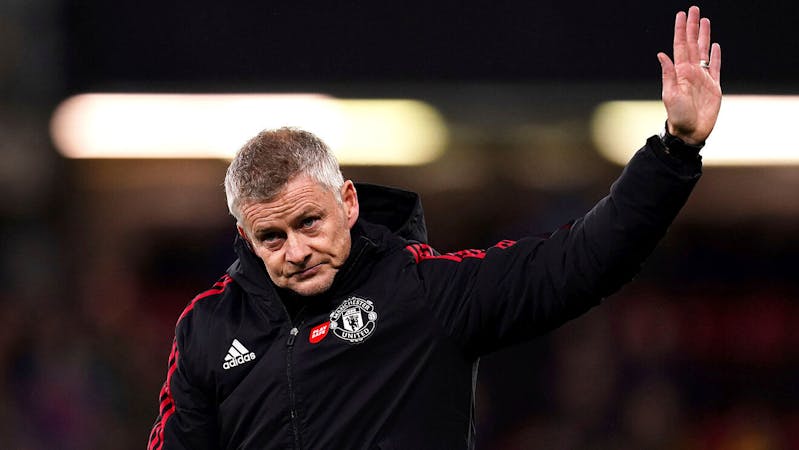 After their humiliating but modest loss against so-called 'noisy neighbours' City just before the international break, it was a matter of when rather than if the axe will come down on Ole Gunnar Solksjaer.
A team that seemed to be enjoying some much-needed rejuvenation under the Norwegian was not just showing chasmic cracks, but falling apart like a pack of cards.
When the chips are down, Manchester United have shown a champions mettle to always recover from setbacks, as was seen against Tottenham.
These miraculous recoveries have saved Ole's job countless of times when it had been haplessly dangling on the brink.
But that wasn't the case this time, as it appeared that the camel's back had finally been irredeemably splintered.
When Nigeria and Watford's Emmanuel Dennis, who cost less than €4m over the summer, fired the 4th goal past United's €216.5m worth of defensive material, the printer at Old Trafford was already calligraphing Ole's P45 in bold letters. 
But:
How did the feel good factor following Ronaldo's, Varane's and Sancho's arrival so quickly dissipate?
Where did all the fan, media, pundit and player endorsements evaporate to?
What happened to a City's only title challengers last season? 
Many postulations, hypotheses as well as claims have been made on a possible fallout behind the scene, and although we do not dispute that, this article will be focusing on the on-field maladies that have befallen the red half of Manchester in the last few months.
So what went wrong with Ole Solksjaer's Manchester United on the pitch?
An expensive but costly defence
At the end of a gruelling 38-game 2020/21 campaign, Manchester United finished as the division's fifth meanest defence, conceding just five more goals than Arsenal in third.
But they boasted a better goal difference than any other team not named Manchester City.
Had they not shipped in eight goals were shipped in the last four games of season, they would have ended as the league's most formidable backline.
In hindsight, this was arguably an ominous sign of bad days to come as United have gone on to concede 21 goals this season in just 12 games, the third most leaky defence in the English top-flight.
Even more damning is the fact that the teams with worse numbers than the Red Devils are currently 19th and 20th in the EPL standings.
This doesn't bode well for a team with both European or domestic title aspirations, as it contrasts the hackneyed but true saying: "Good defences win you titles."
Manchester United's slump in defence has been so appalling that even fresh faces have contracted this malaise, which brings us to the next pointer. 
Overly error-prone
When United legend, Roy Keane, explicitly laid into Maguire for cupping his ears on international duty, a lot of retort and clap-back were meted his way.
But facts, statistics and, more importantly, time have vindicated the fiery pundit.
In United's last 17 league games, they have committed 8 errors that have led to a goalscoring opportunity, as much as they did in 45 games before that.
Ironically, along with Brighton, the Red Devils are the only side in the EPL yet to force their opponents into any chance creating errors, which leads to another poor attribute witnessed in Solksjaer's last days.
Worst rearguard in the division
Although teams who boss possession tend to post low tackling numbers, several statistics paint United as the worst ball-winning side in the division.
Despite completing the lowest number of tackles in the league, even lower than possession-obsessed Manchester City, United have the worst tackle percentage in the Premier League.
This figure is in complete contrast to last season, where they finished seventh best, posting even better digits than the eventual title winners.
Another statistic that fails to justify this lax in defence is the amount of fight, grit and determination in the middle of the pack.
With the midfield third being the most crowded area on the pitch, even possessive sides tend to win a significant amount of tackles in this position. 
Despite this high congestion, United have attempted the least number of tackles at the center of the pitch, 11 less than City, 22 less than Liverpool, and 26 less than Chelsea.
An even more damaging revelation shows that the Red Devils were 13 places better last season. A plummet from the force they used to be.
Part of these mediocre displays have seen them commit more own goals than Liverpool, Chelsea, Arsenal and Manchester City combined this term.
And the goalkeeping department isn't left out.
De Gea's inconsistencies
When the curtain fell on the 2020/21 campaign, a lot of United fans were in high spirits about a perceived new number one, Dean Henderson, who had chaired them to only one loss in 13 games. The lone defeat being a 4-2 thriller against Liverpool. 
So it came as a surprise that De Gea, the world's eight highest paid player, was reinstated back into the team at the start of the new season.
The move has arguably backfired as De Gea's numbers do not pale well in contrast with his paycheck or other goalies in the division.
Starting all of United's games this season, the Spaniaird, who has also lost his spot in the Spanish squad, has kept only two clean sheets all season. 
To cement his status as an has-been, United have the third worst save percentage in the league.
In fact, opponents need less than just 8 attempts to breach De Gea's goal, while Leeds' Meisler, who has conceded the same number of shots, is better than De Gea by almost 8 percent. 
Indiscipline
Under the baby-faced assassin, pundits, and even the manager himself, have accused United's players of being "too nice."
And in an over-exuberant manner, the players appear to have taken this too literally and responded in the extreme.
In just 12 games this season, United have witnessed two sending offs, the most in the league.
This rashness is obviously very unconventional to their style of play as this was the same number of red cards accrued in their last 76 league games.
Set-pieces
When finding the back of the net becomes difficult, good teams usually resort to the old-age practice of creating chances from set pieces. In this aspect, Manchester have failed woefully.
At the end of 12 game weeks, United remain the only team in the league yet to score from a set-piece routine. In fact, Van de Beek's consolation goal against Watford was the first header scored this season.
This is despite them brandishing one of England's most aerially dominant defender in Maguire, as well as the "world's best header of a football" in Ronaldo.
Compared with last season, United scored at least two set-piece goals every 11 games and their total of 13 headed goals was the joint-second highest in the division. 
So what used to work for them doesn't work anymore. But there is yet more that no longer functions for them.
A Bruno Fernandes burnout
Last season, no player in the world appeared in more games for both club and country than Manchester United's Bruno Fernandes.
Starting September 5, 2020 at the UEFA Nations League, Fernandes went on to make 72 appearances in all competitions in a very demanding campaign.
Although his numbers have been impressive for United, scoring 28 and assisting 17, the inevitable toll has begun to manifest in his game.
Despite an enviable return of 4 goals and 8 assists in all competitions, Bruno's form has been very patchy this term.
The Portuguese either scored or assisted in 54 percent of league games which he featured last season, but this season, that figure has dropped by a sizable 13 percent with Fernandes failing to produce in 7 of his 12 games. 
In truth, consistency and all-round fitness is expected of top athletes playing at elite level, but Manchester United appear to have mismanaged Bruno in the last three years.
Since his arrival in early 2021, the 27-year-old has started in 61 of the 64 available league games for United, only once has he failed to feature for the Red Devils: the last game of last season. 
Compounded by the congested calendar brought about by the covid-19 pandemic, many footballers have either experienced a form of burnout or injury in the past months, and Bruno appears to be a victim of the aforementioned.
However, Solskjaer not being able to rest Bruno might be down to another player's stop-start career. 
The Pogba conundrum
As his contract winds down with every passing day, many Old Trafford faithful as well as the board at Manchester are warming to the idea of losing Paul Pogba on a free in the summer.
A player who has never seemed to live up to the hype or projected potential, the Frenchman accurately embodies what went awry with Ole Gunnar Solskjaer. 
Just as was the case under Mourinho, Pogba became maligned and ostracized by Solskjaer towards the end of his reign.
What makes this even more peculiar, is the fact that the player has provided seven assists, the joint-most in the league.
Yet he only started two of Ole's last seven games in charge, as the former United striker looked to other sources for results.
In truth, a couple of those missed games were as a result of a rash red card against Liverpool, but he did himself no favours, facing criticism for his performances against Atalanta, Leicester, and Aston Villa, results which were instrumental to Solskjaer's doom-laden future.
Sadly, in one of those reviews, a scathing match report branded Pogba as one who had let down his manager's trust.
Speaking of trust...
Van de Beek
Probably the chief area where Solskjaer failed as a manager at Manchester United was his handling of Dutch midfielder and former Balon D'or nominee, Donny van de Beek.
With his goal and determined drive against Watford, the 24-year-old gave Solskjaer a bitter pill to swallow, as he embodied all that United have lacked in the past few months.
Doing his defensive shift with two tackles, the second most among United players, Donny was also a stalwart in attack.
Despite featuring for just half of the game, he created the most chances for his side and scored the only goal.
In fact, he had more defensive contribution than Nemanja Matic who started the game, while he provided much more tangible attacking thrust than Bruno Fernandes, Martial, Rashford and Ronaldo combined, including creating a gilt-edged chance which the latter missed.
His performance was so invigorating that Manchester United's official handle, compiled a highlight video as takeaway souvenir from an otherwise awful day.
Solskjaer might very well look at his time and view the player as one erroneously underutilized.
The Premier League: More ruthless than ever
Solskjaer's dismissal on Sunday shows just how ruthless top-flight, especially Premier League football, is.
The Norwegian was the sixth recipient of a termination letter in the league after just 12 game weeks.
The dramatic switch from tender affection to hostile disdain from the United supporters also shows how impatient and emotionally erratic fans have become in modern football.
In this vein, managers enjoying consistent run of results should keep in mind that no matter the height attained, this remains a mere purple patch in the eyes of these insatiable lovers of football.
And with the enviable power they wield today, just a flick, or rather, a tap of a finger, and the sickle will come swinging.