Stephen Odey gets rave reviews after blistering start to life in Denmark
By Innocent Benjamin
After a blistering start to life in Denmark, many in Scandinavia view Stephen Odey as the current best player in the whole of Denmark.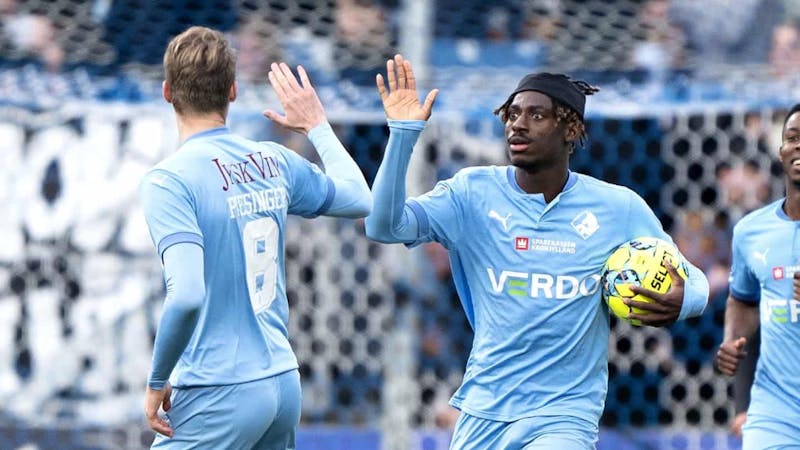 Super Eagles and former MFM striker, Stephen Odey, has been acclaimed as the best player in Denmark by Danish football expert, Morten Bruun. The 23-year-old has been a revelation since moving to Superliga side, Randers.
On loan from Genk, Odey has so far scored 10 goals in 12 appearances in all competitions for his new side. 
His tally of 5 league goals is also the third highest in the Danish top-flight despite playing the least number of games amongst players in the top 16.
On Sunday, the forward extended his tally when he netted his side's only goal in their 3-1 loss to defending champions and table-toppers, Midtylland. His performance was however eclipsed by rising teenager, Raphael Onyedika, who scored twice and assisted another in a man of the match display. 
Nonetheless, his exploits have left fans and experts in awe, with 6'eren football expert, Morten Bruun, unable to hide his admiration:
"I would like to hear the story of how Randers has managed to get hold of a player who is as complete as Stephen Odey," said the Euro 1992 winner. 
"He is strong on the body, hardworking, lightning fast in depth, and he has scored goals for Randers FC in almost every single game he has played."
'He's unlike African footballers'
Odey voted Man of the Match
Another who has been full of adulation for Stephen Odey is Vito Hammershøy-Mistrati, a teammate of his, who is just five years older than the Nigerian. 
The midfielder was quizzed on his new teammate following Randers 2-1 win over OB, a game in which Odey and Vito both scored. 
"I do not know what he is doing in Randers, to be completely honest. Because he's insanely good," enthused the Dane.
"He was trained in Africa, but sometimes when you see the African players, they are not so well trained technically, but you would think he had been in Barcelona or something."
Odey himself, who finished as second top scorer in the NPFL 2017 season with MFM International, has marveled at his fast start to life in Denmark
"This is one of the best periods of my career, I will not hide it."
Randers to sign Odey for peanuts 
Randers are already exploiting the option of permanently signing Odey and could activate a buyout clause in his contract.
The purchase option, reportedly worth only 820,000 euros, could turn out a bargain and Søren Pedersen, Randers' Director, has publicly voiced the club's next step on Odey. 
"I have a meeting with the agent in the near future, where we will see if we can make the ends stick together. We have a really good ongoing dialogue. Stephen is happy to be here and we are happy to have him," says the Randers legend. 
"He can also see the sense in the fact that he has come to a club that works. He has joined a team that works, so his visibility for success in Randers is perhaps greater than it is elsewhere."
Rumors are also rife of the player being available on a free. 
Odey himself is also happy at the Danish club having hopped between clubs in each of the last three seasons. 
"It's cool that people are already talking about me being bought free," said the 23-year-old. "It's something completely different than if people go and ask themselves why this and that player is in the club though. It then indicates that I have done something right, and I love to hear that.
Teammates and pundits alike have marvelled at the brilliance of Stephen Odey
""I'm really happy to be here. But the very question of my future, my agent takes care of. I just focus on playing football. All the players and everyone on the staff here at the club are fantastic. I have never experienced it to be so strong before," expressed Odey who believes he is in a well-functioning club.
"Everyone is there for each other. I have been to places where someone would not want to deal with others in the club. Here everyone is, on the training ground, in the gym, out to fight. Everyone cares for each other. One is ready to help when a teammate makes a mistake because it is a friend. You don't leave anyone in the lurch."
Odey is currently on a purple patch of 6 goals in 6 games in all competitions, and will look to bolster this goal return when Randers face FK Jablonec in the UEFA Conference League on Thursday.