The 4 players to leave arsenal and win the premier league title

By Ernest Sunday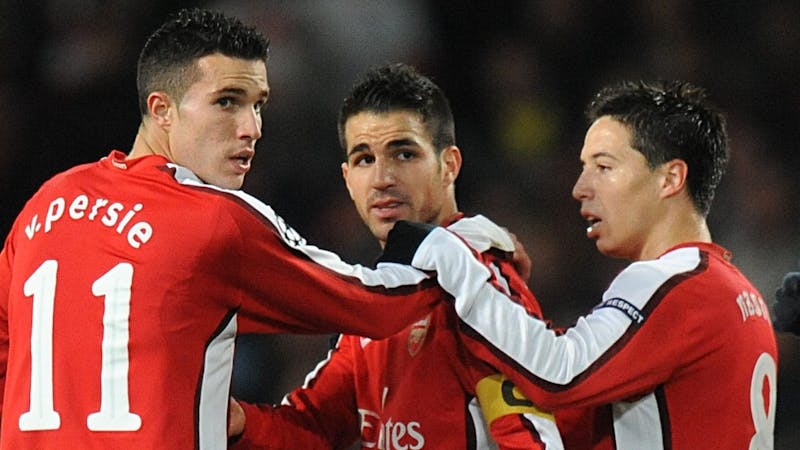 Arsenal has been in EPL trophy drought for many years after winning its Premier League title in the 2003/2004 Premier League season. Since then, many great players have left the club to come back and win the EPL trophy with another England club.
The club has failed to win the Premier League trophy since winning the trophy in its unbeaten record since 2003/2004 season under its former manager Arsene Wenger; instead, it has only laid a hand on the minor trophies in England. Let us look at some of the players who left Arsenal to win the Premier League trophy.
Cesc Fàbregas
Fàbregas joined Arsenal as a youth player on September 11th 2003, from Barcelona. Fabregas, at 16, did not take long to make his debut for the senior team on October 28th 2003, in a League Cup against Rotherham United at Emirate stadium.
His debut earned him Arsenal's youngest ever first-team player (16 years and 177 days). At the same League cup against Wolverhampton Wanderers, he became the youngest ever goalscorer for Arsenal, scoring in Arsenal's 5-1 victory.
In the same year (2003/2004), Arsenal won the Premier League, but he was not given a medal as he did not participate in the league match.
Cesc Fabregas in action for Arsenal during his Arsenal days
After playing four consecutive matches for Arsenal first-team due to Patrick Vieira injury, he signed his professional contract with Arsenal in September 2004.
The Spanish international became the second-youngest player to score in the UEFA Champions League competition after his goal in a 5-1 against Rosenborg.
On November 24th 2008, he was named Arsenal captain. Playing for Arsenal without getting a Premier League trophy on August 15th 2011, Fàbregas left Arsenal for Barcelona.
His first season at Barcelona was a thing of joy for him as he won 2011/12 Copa del Rey, 2011 Supercopa de España,2011 UEFA Super Cup and the the2011 FIFA Club World Cup scoring 15 and providing 20 assists. He also earned four best midfielders awards the same year.
On June 12th 2014, Fàbregas signed for Chelsea. He emerged as the first player in the Premier League history to assist in six successive games in the 2010/2011 season.
He went to win two Premier League cup 2014-2015 and 2016-2017, one FA cup and one Football League Cup with Chelsea before living for Monaco on January 11th 2019.
Cesc Fabregas celebrating his EPL title with Chelsea
Robin van Persie
Van Persie signed a four-year contract with Arsenal on May 17th 2004, from Netherland club Feyenoord for £2.75 million.
He made his debut on August 8th 2004, as a substitute in FA Community Shield against Manchester United, which they won 3-1 to mark his first trophy in the Arsenal shirt.
The Netherland international scored his first goal for Arsenal in a 2-1 victory against Manchester City in a League Cup.
Van Persie never touched the Premier League cup while he was in Arsenal; the trophies he won with Arsenal was FA Cup: 2004–05 and FA Community Shield: 2004.
Robin Van Persie celebrates his goal for Arsenal
On August 17th 2012, Van Persie Joined Manchester United in a fee of £22.5 million in a four-year contract that will keep him till 2016. He made his debut on August 20th, coming as a substitute to replace Danny Welbeck in a 1-0 match against Everton.
Van Persie recorded his first goal for Manchester United against Fulham in a 3–2 home victory. He scored his first hat-trick in a great come back from 1-2 to 3-2 win against Southampton.
He helped Manchester United to seal its 20th Premier League title on April 22nd as he scored a hat-trick against Aston Villa with four games remaining.
Robin Van Persie Celebrates his first EPL trophy with Manchester United
The trophy marked his first major trophy in EPL. He was voted as the Sir Matt Busby Player of the Year for the 2012–13 season and won the EPL Golden Boot the same year. After the season he won FA Community Shield under new manager David Moyes. On July 14th 2015, he left for Fenerbahçe.
Samir Nasri
Sami Nasri in action for Arsenal during his days at Arsenal
On July 30th, he made his first debut for Arsenal, wearing a number 8 shirt which Arsenal legend Ian Wright won in a friendly match against German club VfB Stuttgart which ended in a 3-1 victory. On 16 August, he made his first Premier League debut in a 1-0 win against West Bromwich Albion.
He scored the only goal of the game earning the record of 83rd player in the Premier League history to score on his debut and the 22nd Arsenal player to score on his debut.
At the 2010/2011 season, Nasri was included in the EPL team of the year. He spent his years at Arsenal without winning any trophy.
On August 24th 2011, Nasri signed a four-year contract with Manchester City in a transfer fee of £25 million.
Sami Nasri celebrates his first EPL trophy in Manchester City shirt with his girlfriend
Four days after his arrival, he made his debut (August 28th 2011/2012) in an away match against Tottenham Hotspur and provided three assists as Manchester cruised a 5-1 victory in the game.
On October 1st, he scored his first goal for Manchester City, assisting two in the same game. Nasri won his first Premier League trophy On May 13th, the same year he joined City after defeating Queens Park Rangers 3–2.
At the beginning of 2012/2013, he scored and provided an assist in 3-2 against Chelsea to win the Community Shield. After going through some injury set back, he was loaned to Sevilla on August 31st 2016, before moving to Antalyaspor on a permanent deal the next season.
Alex Oxlade-Chamberlain
Chamberlain joined Arsenal on August 8th 2011, from Southampton in a rumoured fee of £12 million with add-ons that could rise to £15 million. On August 28th, he made his debut against Manchester United as a substitute to Francis Coquelin at 62nd minutes in an 8-2 defeat.
In a League Cup against Shrewsbury Town on September 20th 2011, he scored his first goal in the 58th minutes in a 3-1 win.
In his first year, he was nominated the PFA Young Player of the Year, and he was the youngest in the list but lost out to Tottenham Hotspur's Kyle Walker.
In the 2014/2015 season Chamberlain came on as a substitute to assist Olivier Giroud in a 4-0 win in the FA cup final against Aston Villa at Wembley Stadium.
Alex Oxlade-Chamberlain celebrating his goal during his days at Arsenal
On August 31st 2017, Chamberlain signed a five-year contract with Liverpool for £35 million. He made his debut in a 5-0 lost to Manchester City coming on as a substitute. He scored his first goal for Liverpool on October 17th as he came on as a substitute to score in a 7-0 win against Maribor in the UEFA Champions League.
He got hit with an injury 15th minutes of the Champions League semi-final first leg against Roma. The injury made him lose the whole season's match and also the World Cup.
Due to his injury history, the Liverpool manager revealed that he would be missing most of the 2018 /2019 season to focus on his recovery, "It feels like now is an appropriate time to tell people that for Ox, this coming season will be about focusing on recovery and rehab," Klopp said.
During 2018/2019, Chamberlain was used as an unused substitute for the 2019 UEFA Champions League final against Tottenham Hotspur, which he won with Liverpool.
Alex Oxlade-Chamberlain celebrating his first Champions title with Liverpool
On December 21st, Chamberlain took part in the FIFA Club World Cup final against Flamengo, with Liverpool winning 1-0.
In 2020 Chamberlain took part in the Premier for Liverpool, scoring three times in 23 appearances; he became among the 2020 crowned champions of England (Premier League).