The return of Aubameyang, a huge boost for Arsenal

Arsenal Skipper, Pierre-Emerick Aubameyang returned with a hattrick of goals as Arsenal defeated Leeds United 4-2 on Sunday evening.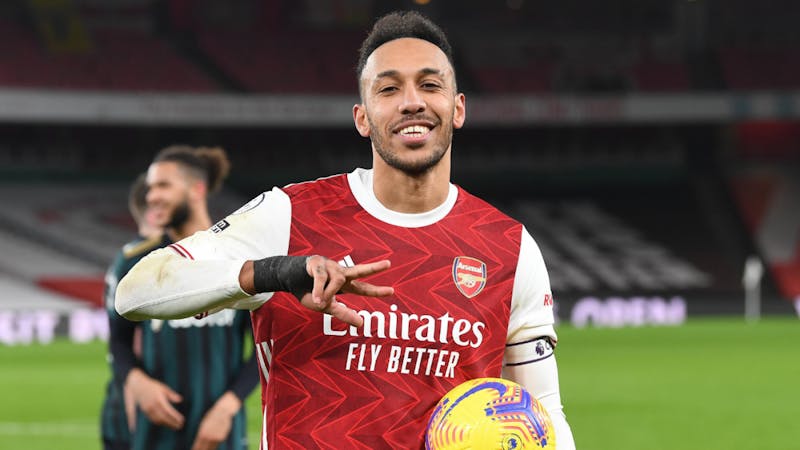 Arsenal Skipper Pierre-Emerick Aubameyang returned with a hattrick of goals as Arsenal defeated Leeds United 4-2 on Sunday evening. Aubameyang missed 3 Arsenal games due to his mum's health issues and has been out of Mikel Arteta's starting lineup since the 18th of January.
Aubameyang returned to Arsenal's starting lineup on Sunday at the Emirate Stadium and bagged in a hattrick to help Arsenal secure their 10th League win of the season.
Aubameyang's season has been bizarre, and it depicts the state of Mikel Arteta's team. Before the game, Aubameyang had just 5 goals plus 1 assist under his belt in the league.
He has struggled for form and goals this season, for a player of his calibre, someone that scored 22 goals in each of the previous two seasons in the Premier League. Many things can be attributed to his struggle, including the team not creating enough chances.
Added to the lack of goal scoring chances, statistics show that Aubameyang is much effective when deployed on the flanks. He can run in behind the defenders, which played out very well against Leeds United in his first goal of the evening.
His linkup play with Arsenal young stars Emile Smith Rowe and Bukayo Saka against Leeds United was impressive, and it keeps getting better.
Aubameyang's penalty against Leeds United is a testimony of a striker ready to put behind his recent struggles
Aubameyang opened the scoring in the 13th minute of the game. He picked up a pass from Granit Xhaka on the left flank, ran into the box, confused and turned his opponent with amazing leg overs and beat the Leeds goalkeeper near his post with a fine finish.
The Leeds goalkeeper had expected the ball on the other corner, probably with a curly ball, but Aubameyang, with his deadly goal-scoring instinct, chose the keeper's weaker side.
A Happy Aubameyang, A Happy Mikel Arteta
It is almost impossible to talk about Mikel Arteta's success in the FA Cup last season without talking about the semi-final and finalist hero, Aubameyang. The whole Arsenal team relied on his goals last season.
Aubameyang helped Arsenal secure a 2-0 win against Manchester City, scored the game's two goals in the 19 and 71 minutes of the game at the Wembley stadium.
In the final against Chelsea, he repeated it, scoring Arsenal's two goals of the game as Mikel Arteta won his first trophy in his first season as Arsenal. Aubameyang's impact last season led to his bumper contract extension, something that helped steady the club during the summer transfers.
Mikel Arteta was very pleased after the game, saying that Aubameyang looked hungry and committed.
"Yes, I thought he was superb today. He's been training really well in the last week or so; he was back to normal, he looked really committed in training, really hungry, " Arteta said in the post-match conference.
"I think today he had a great performance, not only for the goals but for the way he worked without the ball as well. The amount of pressure he put on every Leeds defender and he set the tone for the team. I'm delighted for him; he deserves it."
Mikel Arteta will be hoping that Aubamyang's new form continues till end of the season, as they fight their way up the league table
Aubameyang's form coming at the right time
Arsenal currently sits 10th in the Premier League on 34th points after 24 games. The team is 6 points below 4th placed Liverpool team. With 14 more games to be played this season, Mikel Arteta would hope that Aubameyang keeps firing on all cylinders.
This season has witnessed many changes, the impact of VAR in the game, injuries, post-covid effects, new officiating rules, and many others. The league looks so compact, even after 24 games played.
Arsenal's season can still be redeemed. They are very much in the race for the top four, but they need goals from players like Aubameyang, Lacazette, Pepe and the likes.
Mikel Arteta's team are already out of the FA Cup, losing 1-0 to Southampton. Mikel Arteta was criticized for fielding a weak team in the match. Pundits called it disrespect, but it looks like he wants to focus all his resources in the league to stand a chance.
Arsenal will be playing Benfica in their upcoming game in the Europa League, and Aubameyang's current form is what Mikel Arteta would want.