Top ten rising football stars in Europe

By Ernest Sunday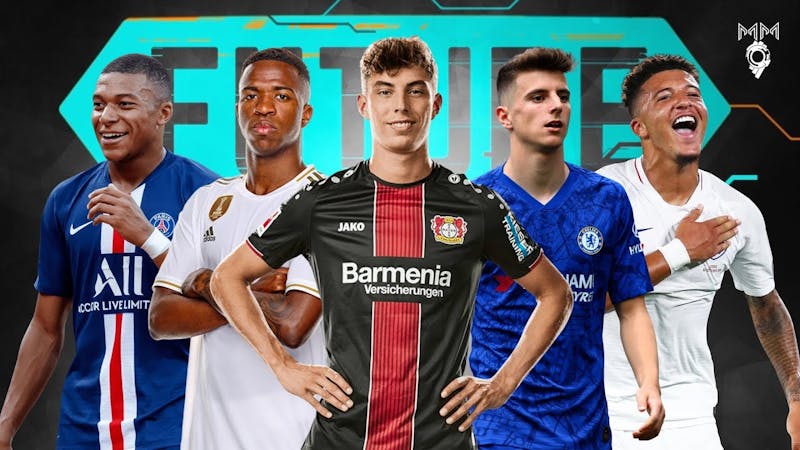 European clubs have produced stunning star players over the past three years that have shown sparkling talents and scored incredible goals in their domestic leagues and European competition. Let us take a look at the list of the most talented young players across Europe.
1. Erling Braut Haaland
Borussia Dortmund striker Erling Braut Haaland celebrating with his teammate
The 19-year-old striker signed for Borrusia Dortmund in the 2020 January transfer window for €20 million from RB Salzburg. Since his arrival to the German side, he has been in stunning form scoring 13 Bundesliga goals plus three assists in 14 appearances.
He also scored 16 goals and six assists at Topic Bundesliga for his former club in Austria before joining Dortmund in the January transfer window.
The Norway international has recorded ten goals and assists in 8 Champions League appearance making his total record in 2020 season 39 goals and ten assists.
Before his arrival to Dortmund, many football pundits doubted his quality, but Haaland has proved how good he is with his stat speaking for him. Haaland has only two caps in Norway national team with no goal.
2. João Felix
Atletico Madrid attacking midfielder Joao Felix in his club's jersey
João Felix joined Atletico Madrid(ATM) in a world-record fee of €126 million (£113 million); he is one of the most valued teenagers. The 20-year-old attacking midfielder has been a vital player for ATM scoring eight goals and providing three assists in 30 appearances for the LA Liga side.
The Portugal international last season was also stunning for his former club SL Benfica scoring 29 goals and providing 11 assists in 43 appearances for the Portuguese club. Felix has five goals in 23 caps for his country (Portugal).
3. Marcus Rashford
Manchester United striker Marcus Rashford in action for his club
Rashford has been a sensation to his club Manchester United since making his debut against Midtjylland in Europa League. The 22-year-old academy graduate had scored 14 goals and provided five assists in 23 Premier League appearances for the Red Devil before being sidelined by injury.
He has recorded 19 goals in all competition for his club this season. The England International has ten goals in 38 appearances for his country. His speed and sharpness have made him one of the most dangerous strikers in the Premier League.
4. Jadon Sancho
Borrusia Dortmund winger Jadon Sancho celebrating his goal in Dortmund's jersey
Jadon Sancho has been in good shape since he left England Champions Manchester City for Borussia Dortmund.
The City academy graduate has enjoyed his best season so far, with Dortmund scoring 17 goals and providing 17 assists in the German Bundesliga in 31 appearances.
The 20-year-old England international has been linked with a move to England, and Dortmund values the stunning striker at over £100m.
Sancho has also recorded two goals and two assists in the Champions League this season. Sancho skills and eye for goal has made him be recognised as one of the best teenagers in the football world today.
5. Kai Havertz
Bayer 04 Leverkusen Kai Havertz one of the most talented teenagers in German Bundesliga
Kai Havertz burst into the scene last season, scoring 17 goals in 34 appearances for German club Bayer 04 Leverkusen. Havertz continued his stunning form with excellent performance and goal-scoring ability so far this season (2020).
The 21-year-old attacking midfielder has been the key player for Bayer 04 Leverkusen this season, scoring 12 goals and providing six assists in the German Bundesliga.
The German international has been linked with a move to England with Manchester United, and Chelsea tipped to be fighting for his signature.
6. Lautaro Martinez
Lautaro Martinez in Inter Milan jersey in a home match
The Argentina-born striker joined Inter Milan on 4 July 2018 in a reported fee of €22.7 million from Racing club (a club in Argentina). He has been a major part of Inter starting line 11 and has enjoyed his pairing with Lukaku so far this season.
Martinez has already scored 12 goals and provided three assists in the Italian Serie A this season. He also recorded nine goals in 17 caps for his country.
The 22-year-old striker is linked with a move to Spanish champion Barcelona to join his country captain Lionel Messi.
7. Vinicius Junior
Vinicius Junior celebrating his goal for Real Madrid in the Champions league
The 19-year-old striker has been one of the most prolific teenagers for Spanish giant Real Madrid. He joined Real Madrid on On 23 May 2017 in a fee of €46 million. His dribbling ability and also his eyes for goal has been one of a kind.
The Brazilian striker has scored four goals and provided four assists in 31 appearances for Real Madrid this season.
8. Ansu Fati
Barcelona winger Ansu Fati celebrating a goal in Barcelona shirt
Ansu Fati is the youngest brilliant teenager so far to be playing in the senior team. He is only 17 years of age, but his strength and his dribbling ability have been incredible. The Barcelona winger (left) was born in Guinea-Bissau before moving to Spain at the age of six.
He has scored five goals and provided one assist in La Liga this season. Fati is linked with a move to Manchester United in England as the club is looking for a number 7 to feel the space they have lacked for years.
9. Rodrygo
Real Madrid's Rodrygo celebrating his goal for Real Madrid
Rodrygo had an agreement to join Real Madrid as a youth on 15 June 2018 in a rumoured fee of €45 million from Santos but joined the Los Blancos in June 2019.
He made his debut for Madrid on 25 September 2019 and scored his first league goal against Osasuna within a minute.
Since then, he has been a great addition to the club. The 19-year-old Brazilian international has so far scored four goals and provided two assists for Madrid in the 2019/2020 Champions League.
He scored his first hat-trick in the Champions League in Madrid's 6-0 win against Galatasaray and also assisted in the same match.
10. Gabriel Martinelli
Arsenal attacking midfielder Gabriel Martinelli in action for the gunners
Gabriel Martinelli joined Arsenal this season in the summer (2019) from Brazilian club Ituano. The 19-year-old Brazilian international has been a crucial part of the Arsenal squad under the former manager Unai Emery before the manager was sacked.
His flexibility with the ball has been something good to watch. Currently, he has scored ten goals and provided four assists in 26 appearances for Arsenal this season.