Why 2021 transfer window will remain the craziest in football history

By Ernest Sunday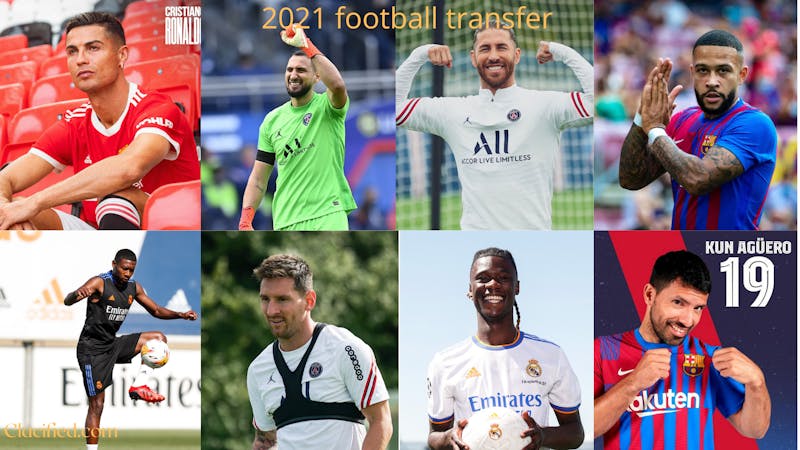 Over many years football transfer window has been one of the exciting moments in football where different clubs buy players from other football clubs worldwide to strengthen their squads ahead of a new season.
Football fans have had many awesome experiences of these transfer window seasons. They have enjoyed seeing new talented players join their clubs every new season, and that has been one of the biggest moments football always produce every season.
The likes of Barcelona, Manchester United, Real Madrid, Chelsea, Paris Saint-Germain, Liverpool, Arsenal, Bayern Munich and many others have signed many talented players every transfer window, which has made their fans enjoy the transfers in football.
Having seen so many talented players join top clubs in the past years of transfer windows, the 2021 transfer window has beaten every other transfer window in football history with many unexpected transfers to different top clubs.
Super talented players like Lionel Messi, Cristiano Ronaldo, Sergio Ramos, Memphis Depay, David Alaba and many other top talented players surprisingly left their clubs unexpectedly to join new clubs.
Since the end of the transfer window, these transfers have been talked about by the whole pundit and football fans.
Aside from all these big names leaving their clubs, let us look at the amazing moments of the 2021 football transfer window and why it is the craziest and most talked-about in football history.
1.0 Lionel Messi's shocking transfer to Paris Saint-Germain
No one would ever imagine Lionel Messi playing for another football club aside from Barcelona. Lionel Messi is regarded as one of the best if not the best football player the world has ever produced.
Messi, who graduated from Barcelona's academy before making his debut in Spanish La Liga, has always carried Barcelona on his shoulder since he emerged.
Lionel Messi made his Ligue 1 derby for PSG wearing the number 30 jersey he first wore at his former club Barcelona
The super talented player has helped Barcelona win many trophies in football, including the UEFA Champions League and Spanish La Liga titles.
Barcelona has always been regarded as the home of the sixth-time Balon d'Or winner, and no club has ever hoped to acquire the service of Lionel Messi.
Every football pundit has always talked about how cost Lionel Messi could be if sold to another club, with some mentioning the huge millions of pounds it will take to acquire his service, not to talk of his high salary.
2021 football transfer window got everyone unaware as Lionel Messi left Barcelona to join Ligue 1 giants Paris Saint-Germain not in a huge amount of money this time but a free transfer.
Messi transfer has created history in the football transfer window as it became the first time Lionel Messi will wear another team jersey on the pitch since his debut many years ago.
Lionel Messi Left Barcelona as a superstar breaking many Spanish and European records. He left as Barcelona's all-time highest goal scorer, something every Barcelona's fan will always carry in their hearts.
Cristiano Ronaldo already gearing to make his second Champions League debut for Manchester United
Many pundits believed that Ronaldo's approach to Manchester City was a way to draw United attention, and that worked for him and his agent Mendes.
Ronaldo's return to Manchester United marked it the first time two of the most talented footballers in football history moved away from their clubs at the same time.
His return also marked one of the greatest home returns, attracting the greatest attention and singing in football history. According to many United fans, no one has imagined such a moment will come after so many years.
3.0 2021 transfer window with the craziest free transfer in football history
Football transfer has had many moments where players left their clubs to join another club on a free transfer (no transfer fee). For many, it is one of the best businesses you can get in transfer windows; no payment to the club a player is leaving, only players' salaries are discussed.
Even though a free transfer goes without a fee, it has only had few talented players leave their clubs on a free transfer in a particular season. Robert Lewandowski, Andrea Pirlo, Raul, Jay-Jay Okocha, Dani Alves, and others left their clubs on a free transfer in different transfer windows.
2021 transfer window produced the craziest free transfer that has never happened in football history with so many talented players leaving top clubs for free
2021 football transfers window has made a difference, so many top talented players surprisingly left their clubs on a free transfer to join other clubs. The 2021 transfer window is the first to see many superstars leave their clubs on a free transfer.
Lionel Messi, Sergio Ramos, Kun Aguero, Serge Aurier, Georginio Wijnaldum, Gianluigi Donnarumma, Memphis Depay, David Alaba and many other talented players left the clubs on a free transfer to other clubs in 2021.
With such big names in the 2021 free transfer list, the 2021 transfer window created history as the craziest transfer ever in football history.
PSG's additional squad in the 2021 season are unbelievable talented players that could help them fight for a Champions League title
5.0 Barcelona's difficulty in registering new signings attracting pay cut from senior players
In the 2021 transfer window, Spanish giant Barcelona watched the club's all-time best player Lionel Messi leave Camp Nou over a reported salary dispute.
Messi left for PSG when Barcelona gave him late information that they could not meet his demands after agreeing with the club to sign a new contract.
Messi's departure was a shocking announcement to the football world that never imagined that to happen.
Despite Messi departure from Barcelona, the club did some good business in the transfer market bringing in Sergio Aguero from Manchester City and Memphis Depay from Lyon on a free transfer.
Barcelona was heavily affected by the COVID-19 pandemic last year and had no choice but to sell some of their players before they could register their new signings
The club also signed centre defender Eric Garcia from Manchester City on a free transfer and Luuk de Jong from Sevilla on a loan transfer.
Despite signing all these players, it was difficult for Barcelona to register its new signings ahead of the season without selling some players and that made them put up some players for sale.
Emerson Royal and Miralem Pjanić were sold to Tottenham and Besiktas even after refusing to go out from Barcelona.
The refusal of some of these players made Barcelona's senior players like Gerard Piqué, Jordi Alba and Sergio Sergio Busquets take a pay cut for the club to register new signings.
It was a crazy scene in the 2021 transfer window as a top club like Barcelona signed players and found it difficult to register them; who can imagine that?
In the late transfer, Barcelona also loaned out one of its most expensive players ever, Antoine Griezmann, back to his former club Atletico Madrid, another crazy moment witnessed in the 2021 football transfer window.
6.0 Pep Guardiola failed to reunite with Lionel Messi in the 2021 transfer window
Since moving to Manchester City, former Barcelona's manager Pep Guardiola has been looking for an opportunity to reunite with his former player Lionel Messi.
Messi has been linked to Manchester City for the last two seasons when he declared his living in Barcelona. Everyone knew that Guardiola was desperate to get the super talented player back to his team in England.
Even though the hope of Messi leaving Barcelona collapsed, there were still rumours linking the Argentina captain to Guardiola's City.
Pep Guardiola missing on signing Lionel Messi was a big hit on City's plan to lift the Champions League title
In the 2021 transfer window, Guardiola signed Aston Villa's Captain Jack Grealish in a breaking transfer fee of €117m after giving up on the chance of getting Messi into his club.
Grealish transfer was good for City, who lost Kun Aguero on a free transfer to Barcelona; Grealish was a fine replacement for Aguero due to his great performance over the last three seasons.
The shocking moment for Pep Guardiola was when Barcelona announced the departure of Lionel Messi just some days after Manchester City signed Jack Grealish in a breaking transfer record.
Due to the cost of Jack Grealish, it was impossible to negotiate with Lionel Messi over a contract and salary.
7.0 Some of the transfers in 2021 that made it the craziest football transfer ever in history