Cristiano Ronaldo breaks another record with Juventus on Monday night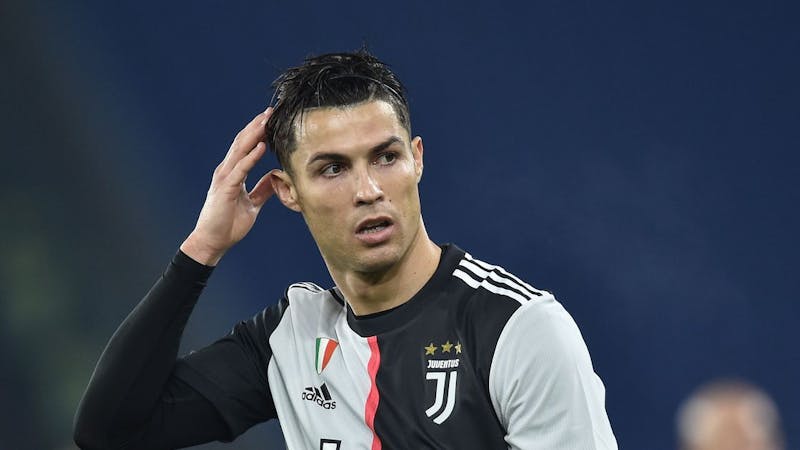 Cristiano has got himself another record on Monday night after scoring a brace in a 2-1 win against their season rival Lazio football club.
The game started hotly at the Allianz Stadium as a win will hand the old ladies (Juventus) eight points past their rival (Lazio). The first half of the game ended in a 0-0 draw as no one could find the net with both headers from Juventus left-back Alex Sandro and a shot from Lazio top scorer Ciro Immobile only hit the woodwork (bar).
The first goal of the game came in the second half after Ronaldo's shot close to the eighteen-yard box was blocked inside the penalty area with a handball in the 50minutes, the VAR after a recheck handed Juventus a penalty. Cristiano Ronaldo converted the penalty in the 51 minutes of the game to mark it his 50 goals of the season for the old ladies.
Ronaldo taking the penalty against Lazio
Ronaldo celebrating after scoring the penalty
The second goal of the game followed three minutes later when a defensive error from Lazio got Paulo Dybala and Ronaldo upfront with Dybala setting the ball for Ronaldo who gently tapped the ball into Lazio's net.
Ronaldo gets his second goal of the game from Dybala's assist
Ronaldo celebrating with Dybala after scoring from his assist
After an extended play, Lazio got a consolation goal from the club top scorer (Ciro Immobile) after the club was handed a penalty from the mistake made by Juventus defender Leonardo Bonucci as he shot the ball past Juventus goalkeeper Wojciech Szczesny.
Ronaldo's goals on Monday night got him a record as the first Juventus player since 1952 to score 30 league goals in a season. The 35-year-old Portugal international did not get only one record but followed it up with two other records as the fastest player to reach 50 Serie A goals since his 1985 birth (61 games) and the first player ever to net 50 goals in the English, Italian & Spanish top flights.
'Records are always important, but the most important thing is that the team wins,' Ronaldo said after the game. 'We are a phenomenal team, and we showed that again today, although we always want to improve and raise the bar.'
Ronaldo now has 30 goals in the Italian Serie A this season the same level with Immobile (30) and will be hoping to win the Serie A golden boot with four games remaining.
Juventus now has six points gap between second-place Inter Milan and will be hoping to win the rest of their season's game to lift the title.