Floyd Mayweather to face ex-world champion Takashi Uchiyama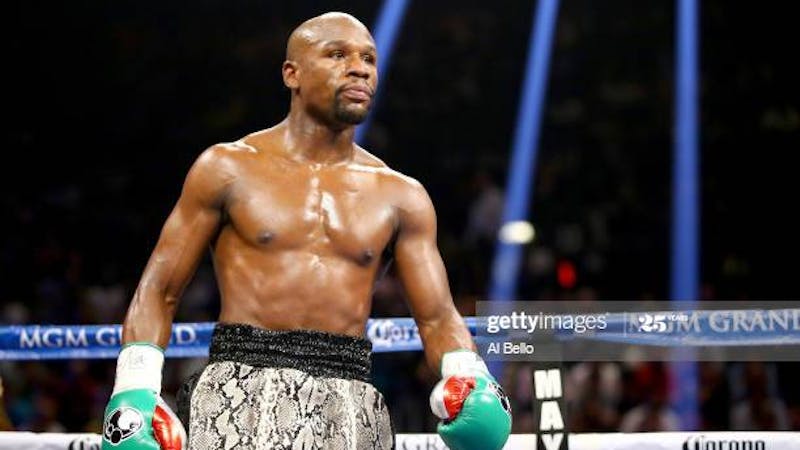 The world's most defensive boxer Floyd weather is poised to face former WBA super-featherweight champion, Takashi Uchiyama, in another comeback fight expected to take place in Japan.
The former American boxer who has won fifteen major world titles including The Ring in five weight classes during his career days is ready to make a come back to fight after making a one-fight comeback in 2017.
Mayweather during a fight with Pacquiao
Mayweather retired undefeated in his boxing career involving 50 fights. The 42-year-old ex-boxer has a bronze medal in the featherweight division at the 1996 Olympics, three U.S. Golden Gloves championships (at light flyweight, flyweight, and featherweight), and the U.S. national championship at featherweight to his name.
He was ranked as the greatest boxer, pound for pound, of the last 25 years by ESPN and "Fighter of the Decade" for the 2010s by the Boxing Writers Association of America (BWAA) after acquiring a two-time winner of The Ring magazine fighter of the Year award (1998 and 2007), a three-time winner of the BWAA Fighter of the Year award (2007, 2013, and 2015), and a six-time winner of the Best Fighter ESPY Award (2007–2010, 2012–2014).
According to the report on Daily Mail, E-fight who are the promoters are in charge of organising another exhibition fight for Floyd Mayweather.
Mayweather in a fight during his career days
"Mayweather vs Takashi Uchiyama is the most exciting. There are various problems, such as immigration, opponents, money, etc. "But communication with the person is progressing positively. I expect the possibility,'' Promoter Nobuyuki Sakakibara explained. Before Uchiyama retired from boxing four years ago, the 40-year-old had 27 fights and lost two while Floyd Mayweather won all his 50 fights.
The 43-year-old retired in 2017 right after he defeated Conor McGregor in the 10th round of their fight where he made not less than $200 million.