'Frank Lampard key for joining Chelsea' - Timo Werner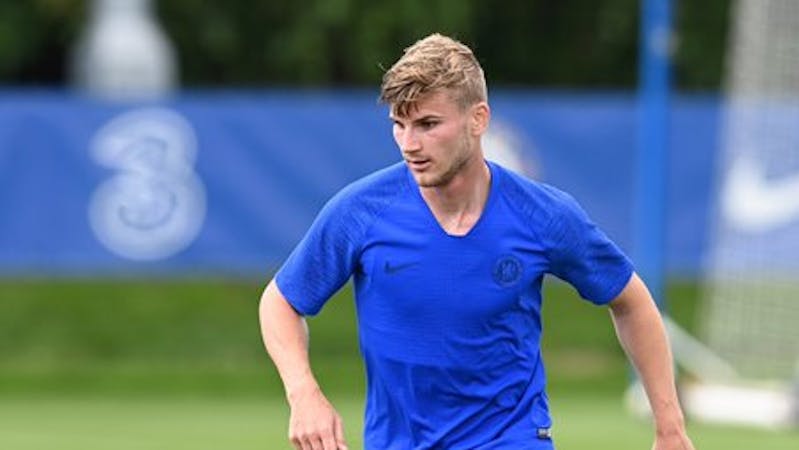 Chelsea's new striker Timo Werner stated that his manager Frank Lampard was the key for him to join the London club.
The Germany international joined Chelsea on a five-year contract on 18 June 2020 in fee of £47.5 million.
After he arrived at Chelsea, he showed up at the Stamford Bridge in the final day of the Premier League to watch the last game of Chelsea against wolves.
The 24-year-old former Bayer Leverkusen striker has already joined the rest of his new teammate in the training ground Preparing ahead of next season as he is not eligible to play for the blues till next season.
Chelsea striker Timo Werner training with his teammate
In an interview after his arrival, Werner said that Lampard was the main reason for joining the club as he is a nice person.
"He (Lampard) was the main point. We talked a lot about things like system, like how he wants to play and sees me playing, and how the system fits me," Werner told the club website.
"He's a nice guy who not only told me what he wants from me as a player because he wants to help me."
Werner said that he always had the ambition to play at a "big club" like Chelsea and that the English top-flight was the right destination for him.
"The style of the Premier League is very fast, and my speciality is that I am really fast so I think it is perfect for me to play here," he added.
"It is another league in another country so I can improve myself to bring it to another level."
Timo Werner's first interview with Chelsea
Werner was a crucial part of his former club Bayer Leverkusen in the 2019/2020 Bundesliga competition. He helped Leverkusen to earn a spot in the Bundesliga top-four table securing Champions football next season.
The striker scored twenty-eight goals and provided eight assists in his 34 Bundesliga appearances. Generally, he scored 34 goals providing 13 assists in 45 appearances for the club.
Chelsea has already qualified for the next season's Champions League competition following their 2-0 win against Wolves on Sunday 26 July 2020 at the Stamford Bridge.
They will be hoping to get high numbers of goals from their new signing when the Premier League starts in September and also when the Champions League starts.