Leicester City's Madison signs new four-year contract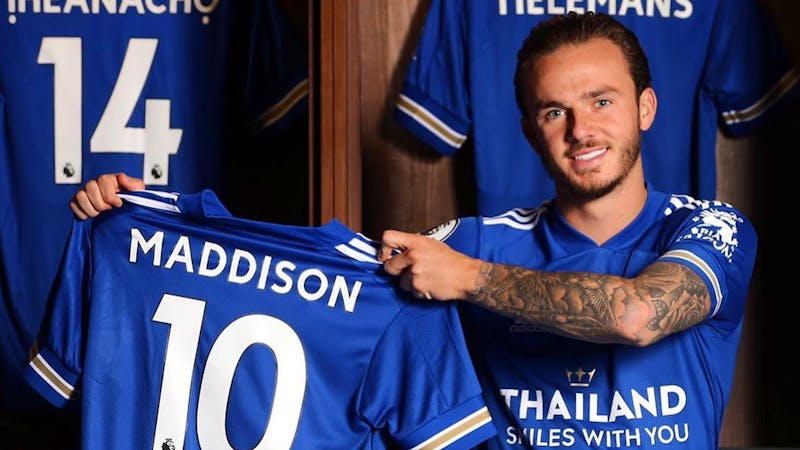 Leicester City's Midfielder James Madison has signed a new four-year contract with the club to put to bed all transfer speculations linking him to top European clubs.
Leicester is keen on keeping their most valued players and tying down Madison, who has been a transfer target for Manchester United with a new contract is a piece of very welcoming news for the club's fans.
Leicester City looked very promising last season under Brendan Rodgers and looked like they would secure a champions league spot for next season, but a dip in form towards the end of the campaign saw them dwindle from the top four.
The club is looking to keep the team, the top players and fight again next season in the Premier League and Europa League.
"I'm so happy to sign a new contract for this football club," Maddison Leicester website after signing the contract.
Madison has helped Brendan Rodgers' tema to gain a spot in the 2002/2021 European competition
"It's an incredibly exciting time to be a Leicester City player with so many positive things happening on and off the pitch, and I'm delighted to be part of that.
"What we've achieved as a club this season is a huge step forward for us, and I know there's so much more to come from this team.
"I've enjoyed every moment since joining Leicester City. The supporters have been incredible to me, and we have a fantastic set of players in that dressing room who are determined to show what we're capable of doing together in both Europe and the Premier League next season."
Madison has been one of Leicester's best players since he joined the club last two season on June 20, 2018, from Norwich City in a transfer fee of £20m.
Madison is regarded as one of the best-attacking midfielders in the Premier League due to his creativity and eye for goals. He has good dribbling skills and very strong on the ball.
James Madison has developed into a complete attacking player since joining Leicester City in 2018
Madison's qualities drew the attention of top English clubs including Manchester United, Chelsea, Arsenal And Manchester City for over two transfer windows.
Last summer Manchester United were serious about the transfer of the England international. Still, the deal could not go through, with Manchester United failing to come to terms on the transfer fee with Leicester.
In the 2019/2020 Premier League season, Leicester City was sitting in the third position of the Premier League table before Madison got sidelined with a "Groin Injury" on July 17. Leicester lost touch in the fight for a top-four position and settled for a 5th position in the league.