Romelu Lukaku one goal away from equaling Ronaldo's Inter record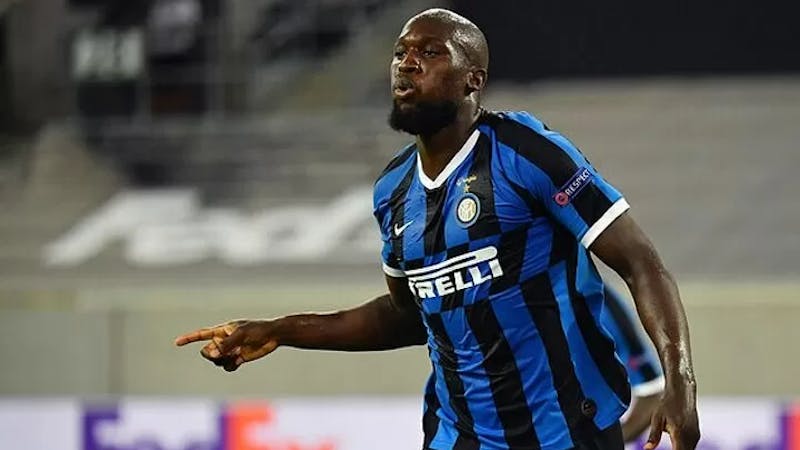 Inter Milan striker Romelu Lukaku needs only one goal to equal the 34 goals scored in a single season by Brazilian Ronaldo de Lima.
The Belgium striker, Romelu Lukaku is enjoying his debut season in Inter Milan after joining the Italian side on a five-year contract in a fee worth close to €80 million from Manchester United.
Lukaku made his move to Inter following the arrival of Manchester United new manager Ole Gunner Solsjkaer who ranked striker Anthony Martial ahead of him saying he does not suit his playing style.
Since his arrival in Italy, Lukaku been on a fine form and has become a key part of Antonio Conte's starting eleven alongside Lautaru Martinez who is linked with a move to Barcelona.
Lukaku made 36 appearances for Inter in the 2019/2020 Serie A season, where he scored 23 goals in the competition and provided two assists.
Lukaku, in mad goal celebration for inter milan with his manager, Antonio Conte
The goals scored by the 27-year-old striker helped Inter finish second in the just concluded 2019/2020 Serie A season.
Lukaku took his form down to Europian competition and has scored eight goals and provided four assists in both Champions League and Europa League in the 2019/2020 season.
In total, the former Manchester United striker has scored 33 goals in all competition for Inter, just one goal to reach the club's record 34 goals scored by Ronaldo de Lima in a single season.
Lukaku in action for Inter Milan Against Shakhtar Donetsk
Lukaku's form has earned him praises from different football pundits.
"Lukaku didn't struggle [to score at United], he scored goals, let's get that right," said former Manchester United midfielder Paul Ince after Lukakau's two goals against Shakhtar Donetsk in the Europa League.
"He wasn't happy under Mourinho. Sometimes you find the right person, the right country. If you're happy, you will perform."
"He looked fit and lean. Talking about when he was at Manchester United, he didn't look like he could get around the park. He's just running past people [now]. Pace! I was fitter at Inter – whether it's the climate or the food.
"He looks like a different animal. We know he can finish. Wow."
Adding to the comment made by Ince, another ex-United midfielder Owen Hargreaves said.
"I think he got a raw deal at Manchester United," Hargreaves said. "I think he felt there was a lot of pressure on him. He felt he had a point to prove all the time. He almost played like he was carrying that burden.
"Now he looks like he's in a place where he's really confident. I think he deserved a little bit better. We never questioned his finishing, but at 27, he looks the perfect age. It just shows you need to find the right fit for you.
"For whatever reason, it wasn't there [at Manchester United]."