Manchester City's Ake suffers a hamstring injury against Spain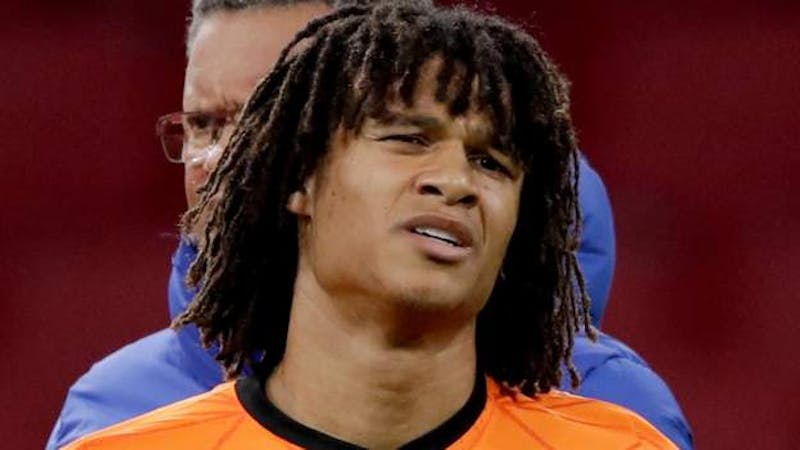 Manchester City's summer signing Nathan Ake has suffered a hamstring injury while on international duty with his country Netherlands in a friendly match against Spain.
The central defender was limped off the field just six minutes into the game after a back pass to Netherlands' goalkeeper Marco Bizot.
He suffered the injury at his right muscle and could not continue the game before he was replaced by Ajax's defender Delay Blind.
Ake's injury makes it the second injury he has suffered this season after he suffered what was reported to be "niggles in the groin" in October that made him miss three matches.
The result of the injury might be as a result of the tight fixtures made in 2020 where players are meant to play close to three matches every week, which does not allow them to rest.
Ake could not continue the match against Spain due to his injury
Earlier before Manchester City's coach Pep Guardiola and other coaches in the Premier League had requested for a five-person substitution to rest players in the tight schedule.
Still, the board rejected the request and stood on three-person substitution.
Guardiola was furious about the board's decision and blasted them for not caring about the players which they are meant to protect.
"I don't understand, I don't know who is in charge to decide these things, but I don't know how they don't understand when all the leagues around the world except this league have five substitutions, to protect the players, to protect the footballers, to protect the physicality of playing every three days.
"Maybe this league likes to be different. The situation is unusual; it is different. That's why I am surprised, I don't understand, and since I have a microphone and people ask me about this I will have the same theory, " Guardiola said.
Ake's injury will be a blow to Manchester City's coach Pep Guardiola who needs the defender ahead of tight schedule in the 2020 season
'It's not to take advantage, it's to protect the players, today a right-back from the national team is injured for that reason, and tomorrow it will be another player. 
"I don't understand what benefit it three or five, the show must go on, it's not to play games or not play games, it's to protect the players.
"The previous season finished later, it was exceptional [circumstances] and all the leagues around the world understand the situation, except here.
"It's ridiculous. LeBron James won the NBA title, know he will be on holiday for one month, two months, three months, these guys had eight days to two weeks and then it's games, games, games.
"The pandemic is still here; every league around the world has five subs."
Ake's injury will be a blow to Manchester City's Guardiola ahead of many tight fixtures coming up in both Premier League and Champions League.