Paul Pogba tests positive for coronavirus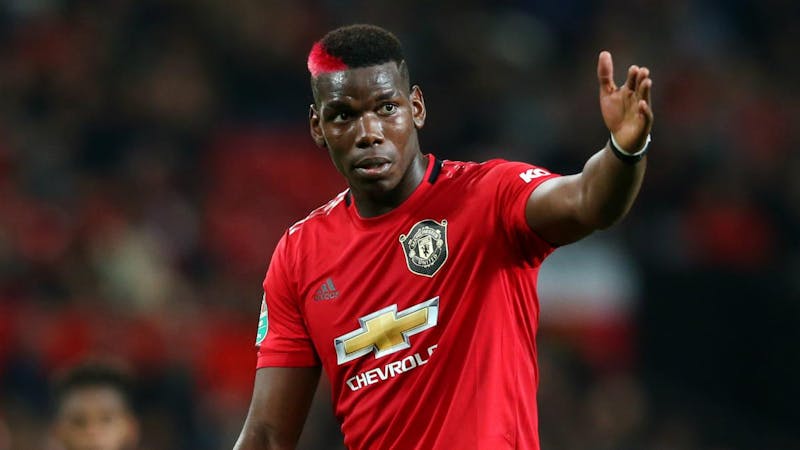 Manchester United midfielder, Paul Pogba, has tested positive for coronavirus and has been dropped out of France squad playing against Sweden and Croatia in the Nations League next month.
The 27-year-old superstar was included in France squad before but has been replaced by Rennes' 17-year-old midfielder Eduardo Camavinga due to the new development.
According to France coach Didier Deschamps, he said Pogba was tested on Wednesday and it returned positive.
Deschamps said: "I had to make a last-minute change to this list because Paul Pogba was planned to be in this list, but unfortunately for him, he took a test (for COVID-19) yesterday which turned out to be positive today, so at the last minute he was replaced by Eduardo Camavinga.
The abscence of Pogba who won the 2018 World Cup with France will be a huge blow for Deschamp
"Manchester United has wished him a quick recovery ahead of the new season. In a statement, it read, "Pogba has been replaced in the squad after testing positive for COVID-19. The midfielder will be unable to add to his 69 caps and ten goals for his country in the games next month.
"Everybody at United wishes Paul a speedy recovery ahead of the new season."
France will be playing against Sweden in Solna on September 5 and against Croatia in Paris on September 8.
Pogba will be required to be on quarantine for 14 days which means he will miss both matches, but the midfielder will be hoping to make it before September 19 when the Premier League starts.
In the France squad, Juventus midfielder Adrian Rabiot was recalled after refusing to go on a standby list in the 2018 World Cup.
France coach Deschamps said he does not look back at the past and that is the reason for selecting Rabiot.
"He's found a very good level again. We can't go back; I'm not someone who likes to take radical decisions. He remained selectable," explained Deschamps.
Pogba's Manchester United teammate Anthony Martial has been recalled in the France squad after having a good season in the Premier League.
Blaise Matuidi 33 was dropped in the squad list for the first time after joining David Beckham's Inter Maimi.
Available squad for the Nations League
Goalkeepers: Hugo Lloris (Tottenham/ENG), Mike Maignan (Lille), Steve Mandanda (Marseille)
Defenders: Lucas Digne (Everton/ENG), Leo Dubois (Lyon), Lucas Hernandez (Bayern/GER), Presnel Kimpembe (PSG), Clement Lenglet (Barcelona/ESP), Ferland Mendy (Real Madrid/ESP), Dayot Upamecano (RB Leipzig/GER), Raphael Varane (Real Madrid/ESP)
Midfielders: Eduardo Camavinga (Rennes), N'Golo Kante (Chelsea/ENG), Steven Nzonzi (Rennes), Adrien Rabiot (Juventus/ITA), Moussa Sissoko (Tottenham/ENG)
Forwards: Houssem Aouar (Lyon), Wissam Ben Yedder (Monaco), Olivier Giroud (Chelsea/ENG), Antoine Griezmann (Barcelona/ESP), Jonathan Ikone (Lille), Anthony Martial (Manchester United/ENG), Kylian Mbappe (PSG)