Lewandowski, the 4th highest goal scorer in Champions League history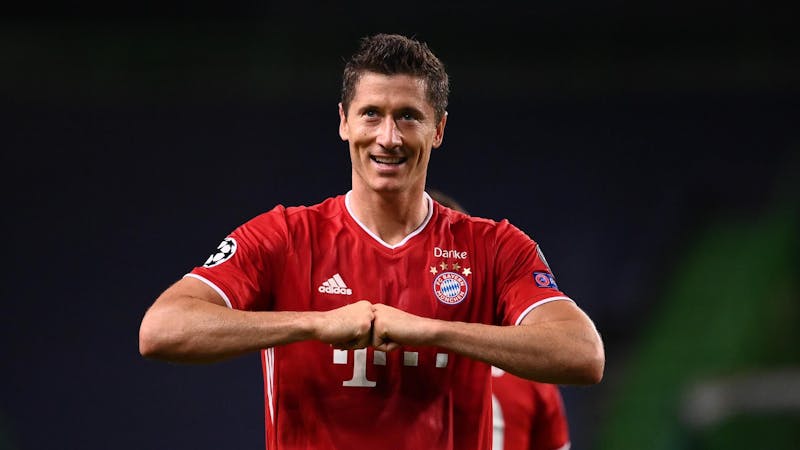 Bayern Munich striker Robert Lewandowski has become the 4th highest goal scorer in the Champions League history.
Robert Lewandowski has set a new Champions League record after scoring two goals in a 2-6 victory against RB Salzburg on Tuesday night.
The Poland captain scored two goals after Bayern came from behind to win the match. The super striker opened the scoring with a penalty for Bayern when they were 1-0 down and also scored his second in the 88 minutes of the game to make it 2-5.
His two goals made him the fourth player in the Champions League history to score seventy goals in the competition and also the fourth top scorer in the Champions League history behind Cristiano Ronaldo 130, Lionel Messi 117, and Raúl González 71.
After scoring two goals to reach such mile, Lewandowski dedicated his two goals to former Bayern Munich player Gerd Muller who is going to celebrate his 75th birthday soon and suffering from Alzheimer's disease.
Lewandowski is one of the best if not the best striker Bayern Munich has ever had in the history of the club
 'I would like to dedicate my goals to a true legend Gerd Muller, it's his 75th birthday today," Lewandowski said on social Instagram.
'The scale of what you have achieved drives me to work every day to at least come a bit closer to your greatness. Stay strong King Gerd.'
Muller, nicknamed 'Der Bomber', scored an astonishing 565 goals in 607 appearances for Bayern between 1964 and 1979.
Lewandowski has been a prolific striker for Bayern Munich since joining the club in 2014 from Bundesliga rival club Borussia Dortmund and has scored 258 goals for the club in all competitions.
He has already scored 12 goals in ten appearances for Bayern this season with ten of the goals coming from Bundesliga in just five appearances.
Lewandowski is today, regarded as one of the best strikers if not the best striker in world football.
Lewandowski will still make it to the top three of Champions League highest goal scorer as he still has many games to play with just one goal behind the third-placed Raúl González (71).