Liverpool Defender Van Dijk set to miss rest of season with ACL damage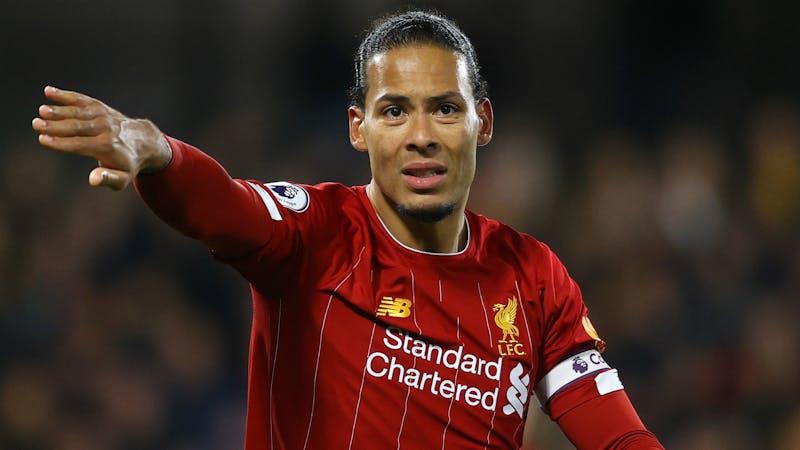 Liverpool defender Virgil Van Dijk is set to miss the rest of the season after he damaged his ligament in a clash with Everton's goalkeeper Jordan Pickford.
Van Dijk picked up the injury in Just 11 minutes into the game against Everton, from a fierce challenge from Everton's goalkeeper Jordan Pickford.
Van Dijk left Goodison Park on crutches and after being examined by a consultant on Sunday, it looks like he sustained serious damage to his anterior cruciate ligament.
A statement confirmed the injury saying: "Virgil van Dijk will undergo surgery on the knee injury sustained during Saturday's 2-2 draw at Everton.
"Following surgery, Virgil will begin a rehabilitation programme to enable him to reach full fitness as soon as possible. You'll come back stronger, VirgilvDijk."
Van Dijk in his Twitter handle has thanked everyone who has sent him messages of a quick recovery and said he will support his teammates ahead of their upcoming matches.
Van Dijk is set to miss much of the remainder of the season, including Liverpool's upcoming Champions League against Ajax on Wednesday
"The afternoon I met with a leading consultant to start the process of planning the final details of my rehabilitation following the incident yesterday, " Van Dijk said.
"I am now fully focused on my recovery and will do everything I can to be back as quickly as possible.
"Despite the obvious disappointment, I am a firm believer that within difficulty lies opportunity and with God's help, I am going to make sure that I return better, fitter and stronger than ever before.
"In football, as in life, I believe everything happens for a reason, and it is important to try and keep level headed whether going through the highs and lows.
"With the supports of my wife, kids, family and everyone at Liverpool, I am ready for the challenge ahead.
"I do like to thank everyone for the messages of support, It meant a huge amount to my family and me, and I will now be doing everything possible to support my teammate in any way I can ahead of a big few weeks ahead as I take my own recovery day by day. I will be back.
Insight to Liverpool squad with Virgil Van Dijk
Van Dijk is a serial winner, a leader and ever-present defender for Liverpool.
Van Dijk has been a key part of Liverpool's squad since he arrived from Southampton. He has helped the club win both the European trophies and the Premier League.
Van Dijk's presence in Liverpool's squad has always been a threat to opponents and the club will miss that in his absence
He is a kind of player who has all attributes and qualities needed by any coach with his good tackling, physical quality, ball control, area duels and most especially his goal-scoring abilities.
Van Dijk is regarded as one of the best defenders in the world. Liverpool losing him for a long time will be lots of problem to the squad as they might conceive many goals pairing Joël Matip and Joe Gomez.