Willian officially confirms Chelsea exit with farewell message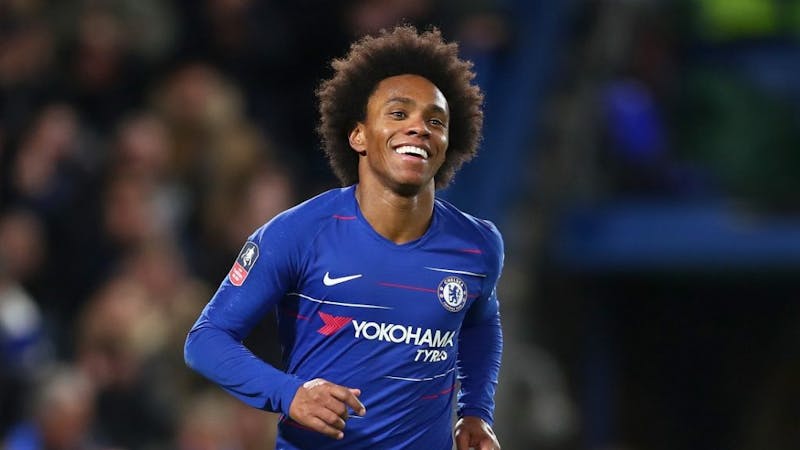 Chelsea winger Willian Borges da Silva has officially announced his exit from the club in a farewell letter after seven years with the blues.
Willian has been tipped to leave Chelsea after he refused to sign a new one-year contract with the club instead insisting on a three-year contract offer before he can strike a deal with his former club.
There were reports that Chelsea was reluctant to give a three-year contract to one of their best players due to his age.
After rejecting the contract offer, Willian went into discussion with Arsenal over a move to Emirate stadium. Last week it was reported that the Brazilian international has agreed on a contract with Arsenal.
Willian takes a penalty for Chelsea in a home match
Willian has taken to his Twitter account to confirm his exit from Chelsea penning down a farewell message to the club and its fans.
"They were seven wonderful years. In August 2013, when I received the offer from Chelsea, I was convinced that this was where I had to play," he said in a statement.
"Today, I am certain that it was the best of decisions. There were so many happy times, some sad, there were trophies, and it was always very intense.
"Yet, beyond the trophies, I learned a lot about myself. I developed a great deal, becoming a better player and a better person.
"With each training session, with each game, with every minute spent in the dressing room, I was always learning.
"I am really grateful to the Chelsea fans for the affectionate way they welcomed me at Stamford Bridge and their support throughout my time at the club.
Chelsea winger Willian in action for the club during 2019/2020 season
Willian joined Chelsea on a five-year contract on 28 August 2013 from Russia club, Anzhi Makhachkala in a fee of €35 million. After his arrival, he became a crucial part of the club playing as a winger in the number 7 role.
Chelsea fans have always enjoyed his style of play due to his fastness, skills, strength, and ability to strike shots. His qualities have always given Chelsea an advantage, especially when playing with a big team in the Premier League.
He made 339 appearances in all competition for Chelsea and scored 63 goals. In the 2019/2020 season, Willian was a key part of the Chelsea squad making 36 appearances in the Premier League.
Willian scored nine goals and assisted seven in the Premier League season 2019/2020 season.
In his seven years with Chelsea, Willian carried two Premier League trophy, one FA Cup, one EFL Cup, and one UEFA Europa League.
Although the winger has not said his next destination, it is believed that he is heading to London rival, Arsenal.