Top 10 best android video editor applications in 2021
Videos are powerful information tools; here is a list of the top 10 video editor software individuals can use to create educative and fun videos.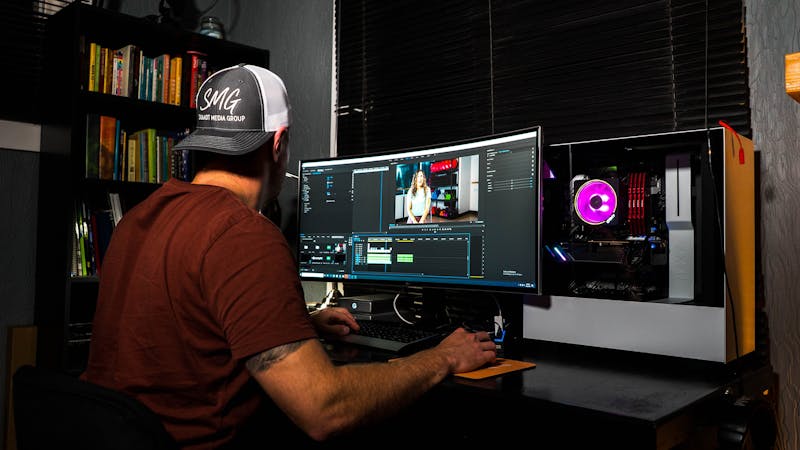 Videos are one of the most exciting contents of the contemporary world, from social media to movies, brand awareness, etc.
The internet is filled with various videos and filming products; some of these videos are produced with many additional effects to elicit more consumption.
While high-end phones like Samsung and Apple has tweaked their phones to record High-definition videos without editor tools, there are still some limitations.
Software companies have developed unique video editor applications for android phones that can add more effects to videos.
Android apps like Video editors give marketers and content creators a platform to produce unique videos that suit the audience.
For instance, Content creators can use video editor applications to describe and review products on social media platforms like Youtube. Other content creators like Comedians also use video editors to create videos and share with Tiktok, Instagram, etc.
Brand awareness and marketing are other essential use of android video editors. Though marketers pay for Ads, the first hurdle should be to create thrilling and engaging videos.
It is purported that the algorithm from social media platforms like Facebook and Instagram favours native video content across all platforms,
It is also no secret that social media algorithms were curated to show users trends they like and engage with, which underlines the need to produce high-quality videos with the necessary effects.
A recent study carried out by HubSpot in 2021 showed that 94% of respondents prefer watching explainer videos to learn more about a product, with 84% revealing the videos swayed them to make a purchase.
Marketers can create explainer videos on android phones with the top 10 best video editor applications.
This article will highlight the top 10 best video editor apps on android. At the end of this article; readers are expected to:
Know the leading android software for a video editor
Understand the essential requirement for each video editor application.
FilmoraGo can be accessed on both android and iOS phones.
1. FilmoraGo
 FilmoraGo is a mobile video editor application that Wondershare developed. FilmoraGo ranks as the best video editor app for android phones.
FilmoraGo is a unique video editor app that Video editors can use for trimming, adding reverse effects, canvas, transitions and speed adjustment.
 FilmoraGo fits video editors interested in specific platforms; with  FilmoraGo, users can create square (1:1) videos for Instagram and 16:9 videos for youtube.
With  FilmoraGo, users can also play around with slow-motion effects and multiple titles. The video editor app also supports numerous languages like German, Italian, Turkish, Japanese, Korean, Arabic, Russian, French, Spanish, etc.
Over 50 million people have downloaded FilmoraGo from the play store alone, receiving a favourable rating of 4.6/5.
Users can access many free features through the pro version, which offers more key options and stickers. FilmoraGo is accessible for Android 4.2 version and higher.
KIneMaster is one of the most popular video editor apps in the world.
2. KineMaster
KineMaster is a video editor application that has been in the business of video editing since 2013. KineMaster is the 2nd best android video editor app.
The video editor offers a complete drag-n-drop service for android users. KineMaster can be used to do basic video editings like combining multiple videos, images and layers effects.
Users can select varying layers on KineMaster based on the unique phone capabilities. With KineMaster, there are keyframes to add images for animations.
The mobile video editor has many downloadable resources like images, transition effects videos, etc., available to users.
KineMaster makes good use of its screen space; users can access essential commands like undo and settings on the preview. The gallery button is also visible on the preview. It also offers an instant preview option while in use.
KineMaster is a robust mobile editor that is available on the Play Store and AppStore. The software also has a desktop version. It has garnered over 100 million downloads on the play store.
Users can access the mobile editor software with the android 5.0 version and above.
After downloading, users can access the free version, while Subscribers can maintain the premium version at $4.99 per month.
PowerDirector is among the video editor apps that have mastered the use of AI technology in video editing.
3. PowerDirector
PowerDirector is a video editor application developed by Cyberlink Corporation in 2014. It is the 3rd best android video editor app.
PowerDirector is a known competitor of the video editing space.
Some of the key features offered by PowerDirector are
4K resolution videos,
Glitch and transition effects to make futuristic videos,
Double exposures,
Multi-timeline interface, etc.
PowerDirector has a stock-free library for downloads.
The video editor may be a suitable platform for newbies that may not know much about video editing; PowerDirector has a library of templates to get users started.
The android editor app is responsive and lacks clutter which gives it a good rating in user experience. It has a minimum device requirement of Android 4.1 (Jellybean) and above.
PowerDirector has five retail options: Director Suite, Ultimate Suite, Ultimate, Ultra and Deluxe. The basic plan starts at $4.58 per month.
Adobe is a family name in the world of graphics and video editing.
4. Adobe Premiere Rush
Adobe premiere rush is 4th on the list of top 10 best video editor apps for android phones. Adobe premiere rush is one among other mobile videos editors developed by Adobe.
Video editors can use adobe premiere rush to edit videos, create animations and share directly to social media platforms like Facebook, etc.
The powerful editing tools in Adobe premiere rush allows Vloggers and social media influencers to create professional videos that feature music, multi-track timeline and video effect.
Adobe premiere rush also comes with cloud syncing, allowing users to access and edit their content anywhere. It also has built-in animated graphics such as titles and overlays with thousands of original, royalty-free soundtracks, sound effects and loops.
Though the video editor offers loads of free features, the premium version unlocks more advanced tools like Adobe Sensei AI, premium content library, auto reframe, etc.
Users can access Adobe premiere rush on both iOS and Android phones. The least premium plan on the premiere rush app costs about $11.49 per month.
Adobe premiere rush is not compatible with all android devices.
InShort ranks as the 5th best video editor application for android phones.
5. InShot
InShot is a simple but powerful mobile video editor for android devices and come out as the 5th best android video editor app.
InShot has a simple editor timeline with different videos. It also offers simple editing tools like cropping, speed and transition effects.
Some of the other popular features in InShot are video splitter, cutter and trimmer. InShot can be used to merge two videos. With InShot, users can also adjust the aspect ratio of videos and photos. It also permits voice-over effects.
There are few options or tools for professional editors; it suits beginners who wish to try something new in video editing.
InShot can be used for free on android devices; however, some limited pro features requires a subscription for access The free version of InShot features Ads which might be inconvenient for users.
InShot has over 100 million downloads on the play store with a 4.8 rating. Android 5.0 versions and higher are eligible to launch the video editor app on their devices.
Viva Video is a popular video editor software that is almost free.
6. Viva Video
Viva Video can easily pass as one of the most popular video editor apps for android phones, and that is why it ranks as is the 6th best android video editor app. Viva Video was developed in 2013.
Viva Video is a powerful mobile video editor with good video templates, magic effects and transitions. It is an easy to use video editor app with BGM and unique filters.
Vloggers can use it to produce trendy short videos on TikTok. The app has export options in 720p, Full HD 1080p and 4K quality videos.
Viva Video also has a free movie maker.
As a professional video editor app, it allows users to blur the backgrounds of videos and photos, which is a high demand for youtube and Instagram Vloggers.
The popular app has over 100 million downloads from the play store alone, though with a rating of 4.6. One of the cons associated with the Viva Video app is the constant Ads on the free version.
Magisto also utilizes AI engineering to fin-tune its products and services.
7. Magisto
Magisto is both the name of a mobile video editor and a company. Magisto employs artificial intelligence (AI) to make video editing fast and easy; making it the 7th on the list of the top 10 best android video editor apps.
The mobile video editor employs three easy steps to produce a music video:
Select images or videos from gallery,
choose a theme of choice
select suitable music from a library for commercially licensed music, and your music video is ready for sharing.
Magisto uses AI to edit the selected images or videos by adding suitable graphics, filters, effects, music. Thus Magisto is an app for individuals who do not have ample time to edit videos.
The mobile editor app also allows users to trim, cut and record videos.
Magisto has over 50 million users with android devices. Interested users can access the app with any android 6.0 version or higher.
Filmr is a new video editing software but has amassed an enormous community.
8. Filmr
Filmr is another easy-to-use mobile video editor app. Filmr combined simplicity and professionalism to accommodate a wider audience.
Fimr is the 8th best android video editor app to use.
The growing mobile app has a simple interface for a better user experience.
Filmr has over 100 plus tools for editing, trimming, cutting and producing videos. It has a royalty-free music library for selecting songs.
In Filmr, there are no limits to the number of images or videos, which video editors can adjust into 16:9. 4:3, 4:5, 1:1 ratios. Users can Reverse, Rotate and flip videos.
At the moment, the current version of the android app does not support many languages. Filmr does not support voice-over effect as at press time. In addition, there is no option for users to choose resolution before saving the video.
Notwithstanding its 4.2 rating on the play store, Filmr has gained over 1 million downloads. The mobile video editor app is available for android 5.0 and higher.
Quik can be used to create videos within a short time.
9. Quik
Quik is a mobile video editor developed by GoPro. Quik ranks as the 9th best video editor app for android phones.
The description is in the name, Quik allows users to create videos and memories with easy steps and less hassle. Quik maintains simplicity by adding transitions, effects and beats to the selected videos and images.
Quik uses AI-powered technology to detect the best position, moments and sound for videos.
Quik has a Mural feature that stores users' best memories in a folder. Quik allows video editors to play with varying colours, gradients, add stickers, slow-motion, trim and speed up videos.
There are over 100 available songs on the Quik library. The HD 1080p export option is a necessary feature for individuals on the look for high-quality videos.
Quik is a free mobile editor but also comes with a pro version. The pro version permits unlimited backup on the mobile app.
Quik has received over 10 million downloads from the play store with a 4.4 rating. The software is available for android devices.
Alive is a new name in the world of video editing and production.
10. Alive
Alive is among the top 10 best video editor apps for android. Alive is an android video editor software used for creating and editing short videos.
Alive can record, edit and share stories on social media platforms like Facebook, etc.
The mobile video app has a variety of features. It has numerous video effects, customizable stickers, and music integration.
Alive displays thousand of video clips from different users, the platform allows users to share their stories or videos as they deem fit.
Alive converges the idea of video editing with social networking; the app is more than a video editing software.
Alive is a free app that offers optional in-app purchases. It has over 5 million downloads from the play store, and it is accessible to only android users with 4.4 versions or higher.
Conclusion
There are many video editor applications for android, but the above is a comprehensive list of software with robust features and tools.
Clacified recognizes that video editing is made for business and fun purposes; thus, there is a need to ensure the list of top 10 best video editors satisfies all categories.
Marketers can also use videos to create quality work or school presentations in a more appealing way. The interest in Video engagement, explainers and fun videos will only increase with time.
Brand marketers should use the best video editor applications to meet their goals and outreach.
At the moment, anyone can access video editor software from the comfort of the home; the foremost requirement is just a functional android device.