Learn how to code: Top 10 best sites to learn to program
Learning how to program will furnish your career and open new opportunities. Read on about the top 10 best sites to learn to program and make the best choice.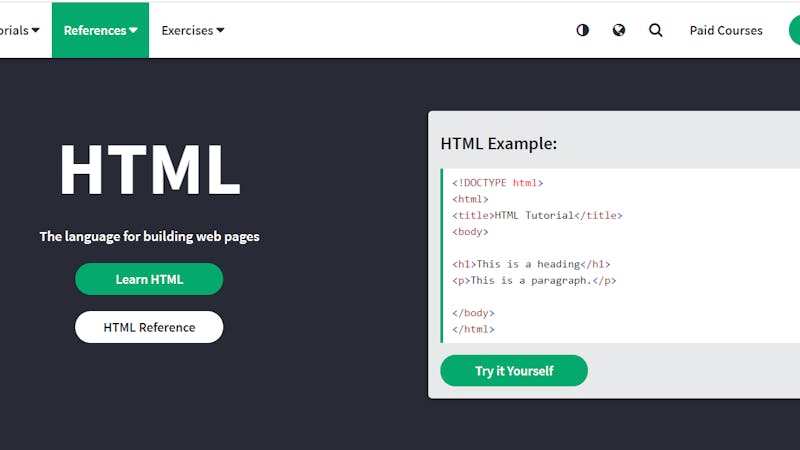 Technology has made everything easy. Today, one does not need to attend physical classes, skip work or buy expensive books to learn a programming language. Hence, one can comfortably learn how to code at home, office or relaxation areas.
Today, programming has become one of the most sought after skills in the world. There are many programming languages in use today.
Choosing a programming language to learn can be tedious, with many factors to consider, such as the ease of learning the language, the skill set needed, market demands, salary rates, e.tc.
Here is a list of the top 10 best programming languages to learn, with detailed information on the nature of the programming language, salary rates, current real-world adoptions and applications.
Most websites for learning programming languages give users a platform for executing and testing codes in real-time. With real time code testing, programmers can easily play around and iterate right in the same platform.
This article highlights:
Niche or programming languages covered in each website
The features available on the top 10 sites to learn how to program
The cost and fee associated with each learning site
Below is a list of the top 10 best sites to learn how to program.
1. Pluralsight
Pluralsight, an online platform for learning programming.
Pluralsight is the best website to learn programming languages. Pluralsight is an online education company that offers video tutorials on Information technology and programming.
Pluralsight offers courses on major programming languages available today including, Python, HTML, Java, C++, R etc. It also offers tutorials on Google analytics, MATLAB, Microsoft SQL Server, and other database toolings.
In 2017, Pluralsight worked with 40% of the largest or top 500 US companies. In 2020, Pluralsight entered into a partnership with Google and Andela to offer free programming courses to Africans.
Pluralsight offers courses on how to code using a subscription fee model. To gain full access to Pluralsight online courses, participants are to pay a subscription fee.
Pluralsight subscription fee ranges between $19 to $29 based on the service plan of choice with a usual 10-day free trial period.
2. Coursera
Coursera is the 2nd best site to learn a programming language. Coursera is an American company founded in 2012. The company also works with several universities to offer degree certifications with its various subjects and topics.
Coursera has many available courses in programming—the online platform tutors users on Kotlin, Swift, Java, HTML, CSS and others. There are also various free courses on machine learning, Psychology, financial market etc.
A typical programming course on Coursera lasts for about 4-12 weeks; hence users may be required to keep up with one to two hours of video lectures a week.
Most programming courses available on Coursera comes with Practice quizzes, graded assignments with Peer Feedback, graded quizzes with feedback, graded programming assignments.
In 2020, Google announced that certificates offered by Coursera on data analytics, project management, IT support, android development and user experience design would be considered an equivalent of a 4-year university program.
Google also made it known that individuals with the above degrees are also eligible to take up roles offered to University degree employees in Google.
Coursera charges about $39 to $89 subscription fee based on the specialization.
3. Codeacademy
Codeacademy is the 3rd best site to learn how to code. Codeacademy is an American online site that offers free and paid programming courses on HTML, CSS, Python, JavaScript, Java, SQL, Bash/Shell, Ruby, C++, R, C#, PHP, Go, Swift and Kotlin.
Codeacademy also provides tutorials on Command line and Git (a software for tracking changes made on projects).
Codeacademy has an interactive forum for discussions and brainstorming, which may benefit newbies in software development.
According to Wikipedia, Codeacademy has over 40 million users as of April 2020. They also partnered with Amazon in September 2017 to offer free Alexa training to users.
Though Codeacademy has many free online courses for developers, the company onboarded their pro version in 2017. Codeacademy charges about 0$ - 15$ for individuals.
4. Udemy
Udemy is 4th on Clacified's list of the top 10 best to learn programming language. Udemy is an American online learning platform that offers tutorship on various subject matters.
Udemy uses instructors to provide lecturing materials to registered students. As an online class, Instructors in Udemy uses Videos, PowerPoint presentations, PDF, audio and Zip files for tutorship.
Newbies in programming can learn developing skills ranging from Python, Machine learning, Data science and many others. Users can also access online materials from Udemy's android and iOS mobile applications.
On January 11, 2020, the Udemy android app surpassed Tinder to become the highest-grossing app in India.
Udemy has pricing plans for individuals and businesses. Udemy charges about $12 for some courses meant for individuals. The subscription fee for business starts from $360 per year.
5. Udacity
Udacity is another American online teaching platform to learn how to code. Udacity also ranks as the 5th best site to learn how to program.
Udacity teaches many spheres of software development, including Artificial intelligence, Cybersecurity, cloud computing, Data Science, etc.
The online teaching platform uses videos for tutoring. Udacity also integrates quizzes and take-home work to enable students to get a deeper grasp of the program.
Udacity partnered with AT&T to offer a Nanodegree program that will teach programming skills to students. Prospective employees can use the Nanodegree certificate to gain an entry-level IT position at AT&T.
Sebastian Thrun, a co-founder of Udacity, received the Smithsonian American Ingenuity in Education Award because of his impact on the online teaching platform.
The subscription fee on Udacity is relative to the program in question; for instance, a full-time program to learn Data Science with Python costs about $339 per month.
6. EdX
EdX is a massive open online course platform. Edx also ranks as the 6th best site to learn how to program. Harvard and MIT created the online course platform.
EdX seeks to provide University-like courses and programs. They offer many courses on programming like the C and Python programming languages. EdX also covers areas like Data science etc.
EdX uses short videos with an interactive session which allows students to practice what they were taught. EdX also provides an online forum where students can ask and review questions - it is all about interaction.
EdX has witnessed growth in recent years. It partnered with General Electric and Microsoft to subsidize some courses with guaranteed job interviews for Massachusetts residents. On June 29, 2021, 2U, another online learning platform, acquired EdX.
EdX is a non-profit venture; thus, most Courses on how to program are free on EdX, but users may be required to pay for certifications. Some certifications on EdX costs about $100 - $400.
7. W3schools
W3schools is one of the oldest names that pop up when discussing where to learn how to program. W3schhols is the 7th on Clacified's list of top 10 best sites to learn how to code. W3schools was founded in 1988.
The online platform is dedicated to the sole purpose of learning programming languages. Unlike other mainstream online learning platforms, W3schools does not offer degree programs.
W3schools uses a learn and practice method to help developers in acquiring new knowledge about programming. They use an instruction-based format with an interface to practice each quiz or test.
The platform is user-friendly. They offer Courses on HTML, HTML5, CSS, CSS3, Java, JavaScript, jQuery, jQueryMobile, AngularJS, AJAX, JSON, SQL, PHP, ASP, ASP.NET, VBScript, AppML, and other related courses.
W3schools also has an online forum for discussion and suggestions among developers. The forum is categorized according to the programming languages and varying niches of software development.
According to CrunchBase, W3schools gets about 118,684,614 monthly visits. W3schools also ranks 364 globally based on monthly traffic.
W3school is a freemium learning centre. It is free to learn how to code in W3schools though subscription fees are required to access special and selected courses. W3schools charge about $10 - $100 for some selected courses on the platform.
8. Treehouse
Treehouse is an American online learning platform founded in 2011. Treehouse offers courses in web programming, development, etc. Treehouse also ranks as the 8th best site to learn how to code.
The platform allows students to learn front-end web development using HTML, CSS and JavaScript. Students can also learn Python programming language and UX design.
Treehouse uses videos, interactive mock exams, and code challenges to impact knowledge on prospective students. The online teaching platform aims to simplify programming to the lowest minimum.
Users can access the Treehouse' course materials on the go. The iPad version of its mobile application was released in 2013. It later released the android version in 2014.
Treehouse offers many plans with unique benefits. A course in python programming language costs about $25; users can also opt for the plus plan, which goes for $45.
9. CodeWars
Codewars is a gamified environment for learning and improving programming skills. It was founded in 2012.
The essence of learning how to code is developing and deploying software using the skills learnt; Codewars aims to improve the practice and application of programming.
Codewars gives users access to JavaScript, Kotlin, Ruby, Crystal, PHP and other programming languages. Codewars offers an entertaining environment where students are awarded honours based on the challenges they solved. Users are allowed to compete and ask questions.
The programming challenges are known as Kata. The method is used to form an interactive community with constructive feedback. High skilled users help other newbies to grow.
Codewars maintain their online learning community through subscription fees. Codewars charge $5 a month or $24 for 6months on the Codewars red plan.
10. FreeCodeCamp
FreeCodeCamp is an American online learning platform founded in 2014. FreeCodeCamp is the 10th best site to learn how to program.
The online platform teaches HTML5, CSS 3, JavaScript, jQuery, Bootstrap, Sass, React.js, Node.js, Python, Express.js, MongoDB, etc. FreeCodeCamp uses online publication, chat rooms, interactive forums to teach software development.
FreeCodeCamp does not only teach how to program. The platform uses assignments and projects to gauge what the students have learnt. Most of these projects are for non-profit organisations; thus, FreeCodeCamp offers students opportunities to work on real-time projects.
As of 2017, the online platform gets over 350,000 unique monthly visits with a reach spanning over 160 countries.
FreeCodeCamp is a non-profit organization. Just like the name, FreeCodeCamp is free. They do not charge a fee for certification.
The founder of FreeCodeCamp, Quincy Larson, revealed that he didn't build the company to earn a living. The organization also made it known that they only make money by Donations from individuals and alumni.
Conclusion
The List of the top sites to learn how to program is a guide. There are many sites to learn how to code; Clacified only provided a purview.

Individuals interested in learning how to program are advised to consider personal budget and the niche of software engineering to suit long term goals. Then choose a suitable learning platform.

It is all about choice and personal convictions.

0