VXPASS works with WHO, world bank for better implementation of Vaccine on Blockchain in Lesotho
VXPASS plans to employ blockchain technology to record and verify vaccine administration in Lesotho; blockchain offers limitless possibilities in the healthcare field.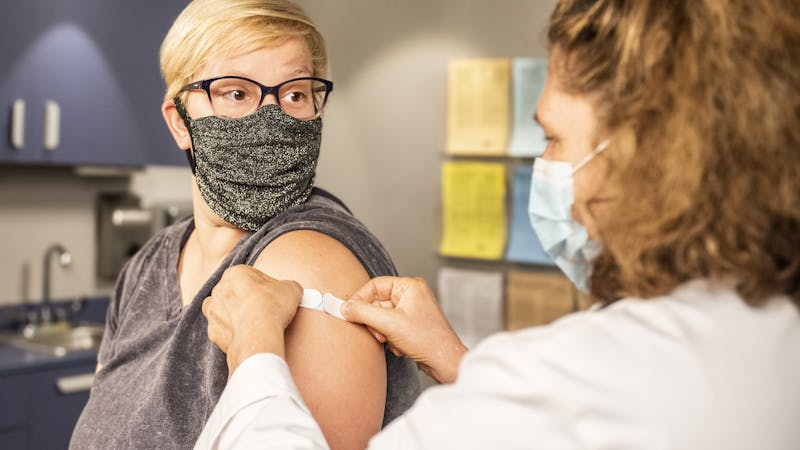 Blockchain-based digital COVID-19 vaccine card provider VXPASS is working with the World Health Organization (WHO) and the World Bank with help from the State Department of the United States to better implement its digital vaccine monitoring programme in the small African nation of Lesotho.  
VXPASS has announced last May that it finalised the signing of the agreement with the public-private partnership Sesiu sa Tšoele le beta Poho Fund (SESIU), which is in charge of vaccination rollout in Lesotho. 
It is stipulated in the agreement that VXPASS will manage the first 560,000 vaccinations that SESIU will administer in Lesotho, with plans of vaccinating 1.2 million citizens by the end of the year 2021. 
This approach allows for easily and cheaply verifiable vaccination records to be kept and checked efficiently while still allowing vaccinated citizens to retain their privacy and ownership of their medical records.
Vaccine on Blockchain
Vaccine on the blockchain means that data is recorded in an immutable and timestamped manner. And because VXPASS is built on the BSV blockchain, the largest and only public blockchain capable of limitless scaling, it can easily accommodate massive amounts of data. 
Limitless scaling implies no restriction to the number of data blocks stored on the blockchain. As the BSV blockchain scales, not only does the block sizes become bigger, which is currently at 2GB blocks, but the throughput will also increase.
The upcoming Teranode update will serve to increase throughput to up to 100,000 transactions per second (tps), surpassing that of the VISA network's capacity. And as the throughput increases, transaction fees will also further be lowered. 
Unscalable networks such as BTC and ETH that have very limited throughput of seven and 30 tps, respectively, have high transaction fees that only get higher as the network is flooded with transactions.
It is evidenced by the current average fee per transaction of BTC at $2.24 and ETH at $27.16. 
BSV, on the other hand, averages only less than a cent per transaction. And when the Teranode update is released, it will further be decreased to fractions of a penny.
The above is what makes vaccines on the blockchain more efficient with fast transactions on a network that does not crash even when deluged with a high number of transactions and the most cost-effective solution in the market. 
Working with WHO to Make Vaccine on Blockchain More Efficient
Although putting vaccine records on the blockchain is an efficient solution to monitoring vaccination rollouts, as opposed to the manual recording and tracking of vaccines.

VXPASS still encountered problems in implementation that necessitated it working with the WHO and other government entities to resolve them. 

"In Lesotho, we signed an agreement with a public-private partnership.

And because of the way the government has structured, the public-private partnership had the authority to sign the document but didn't have the same authority to implement the programme," VXPASS Founder Zachary Weiner said. 

"So, we had some friction between this private organisation that was set up to support the Covid effort and the public organizations that are set up to support all of the other healthcare in the country," Weiner added. 

According to Weiner, VXPASS had to change its approach to communicate with SESIU and include relevant government agencies in the planning of the programme to create synergy and ensure that everyone who needs to be involved is on the same page. 

"Since we've taken the opportunity to reset, we've gotten some support from the State Department of the United States that's helped us navigate with the right business partners in the country, and from the WHO and the World Bank, who have a vested interest in making sure that the money invested or technology brought from the West to Africa find their path to success rather than getting bogged down in some of the bureaucracy that may be unique to that continent," Weiner explained. 

While the WHO is responsible for allocating donated vaccines, the World Bank is in charge of funding vaccination rollout that is not donated.

By working with these two global organisationss, VXPASS can ensure that vaccines on blockchain will be a long-term solution. Still, the initiative will receive the necessary support for worldwide adoption, especially for non-technologically savvy nations.

"You know, in these areas of the world that might not be as developed, they're very used to Westerners coming in with a brand-new technology that supposedly works in the West, trying to implement it there and then it utterly just fizzling out.

Part of our new approach is to partner with the nations, so they see that we have some skin in the game and we're not just going to disappear one day," Weiner pointed out.

0