Google pulls out 'Remove China Apps' from Play Store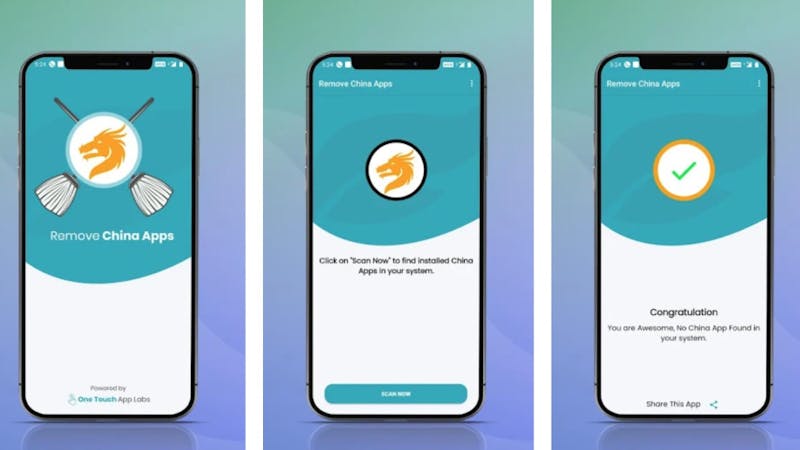 'Remove China Apps' which is an app that has gained popularity in India recently and does precisely what its name suggests has been removed from Play Store.
This app has been among the top trending in India and has gotten more than 5 million downloads since late May. The app enables users to identify and easily delete apps developed by Chinese firms. However, it has been reported that the app has been removed from Android's marquee app store for violating Google Play Store's Deceptive Behaviour Policy.
The policy has it that an app on the store is not permitted to make changes to a user's device settings, or features outside of the app without the user's knowledge and consent and it cannot encourage users to remove or disable third-party apps either.
The Indian firm, OneTouch AppLabs developed the app, and it has been gaining much popularity as the recently escalated Himalayan border dispute between the nations has increased anti-China sentiments amongst the Indians.
Several Indian celebrities have reportedly supported the idea of deleting Chinese apps. Yoga guru Baba Ramdev for instance, made a video showing him deleting several apps affiliated to China which he released on Twitter over the weekend.
Citing an industry source, Chinese news outlet, Global Times reported on Tuesday that if the Indian government permits the "irrational anti-China sentiment" to continue, it will risk ruining bilateral relations and that is likely going to draw "tit-for-tat punishment from Beijing".
The report further said that some users in China have ridiculed Remove the China Apps and urged Indians to "throw away" their smartphones. They made the comments pointing out to the dominance of Chinese smartphone makers in India's smartphone market.
However, this doesn't dispel the fact that if Indians continue with the anti-China sentiment, it could mean bad news for many Chinese firms such as UC Browser and ByteDance which has India as their biggest overseas market.
India, in April, had amended its foreign direct investment policy to enforce more stringent scrutiny on Chinese investors looking to cut checks to firms in the world's second-largest internet market.
New Delhi maintains a similar stand with investors from other neighbouring nations. It said the measure was introduced so as to "curb the opportunistic takeover" of Indian firms going through distress as a result of the global COVID-19 pandemic.