Twitter founder Jack Dorsey endorses END SARS movement, shares donations links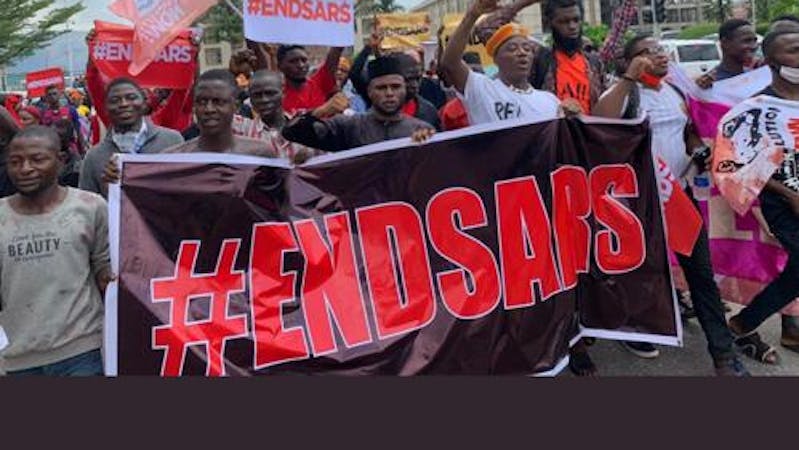 Nigerians are greatly overjoyed as the founder of Twitter, Jack Dorsey, has expressed support for the #EndSARS protests rocking the nation.
Jack Dorsey tweets
Twitter founder Jack Dorsey retweeted links for EndSARS donations through his twitter handle He tweeted, "#EndSARS. Flag of Nigeria."
He went on to share a tweet by Feministcoalition, a feminist group fighting against police brutality through peaceful protests.
The tweet reads in part, "How to donate:
1) Bank transfers (Naira) 9951243245 Providus Bank Wallets. Africa-Wine and Whine, Nigeria.
(2) You can also donate to us using a BTC Pay Server; a free, secure, and censorship-resistant platform. Visit the link below to donate https://donatebtc.feministcoalition2020.com."
EndSARS funding account
The EndSARS funding account was on Tuesday blocked by a Nigeria payment gateway platform, Flutterwave, which is led by a former Deputy Governor of the Central Bank of Nigeria, Tunde Lemo.
Lemo claimed the money was from questionable sources although reports had it that he made a move based on pressure from the CBN Governor, Godwin Emefiele.
However, alternative means for donation has been sourced such as cryptocurrency, shared by Twitter founder Jack Dorsey.
The link shared by Twitter founder Jack Dorsey ensures the account would not be blocked.
Adamu Garba criticises Jack Dorsey's support
Adamu Garba who is a former Presidential aspirant and a member of the ruling All Progressives Congress has heavily criticised Jack Dorsey for volunteering to support Nigerians in these trying times.
Garba threatened to sue Dorsey if the protests continue to escalate.
His tweet tweeted:
"Dear @jack. It'll do you a lot more good if you stay away from Nigerian Politics. You should know that the so-called #EndSARS protest have transformed into political agitation, capable of breaking law & order in our country. You should not be a moral and financial sponsor to this.
This is Nigeria; most of the demands initially presented were attended to by the responsible authorities. SARS no longer exists in this country.
Your support for a disbanded entity was a needless interference. We cannot allow killings again in Nigeria in the name of protests."
Adamu-Garba threatens to sue Twitter CEO Jack Dorsey for supporting EndSars protest in Nigeria
I understand that this may play well to your business, you have more content, more people and more activity on your platform, but to us is about life, peace and security of our dear country.
We cannot allow you to be part of the people sponsoring disorder. We need peace and prosperity.
I can see you are even sharing a link for people to donate money for this protest, an event capable of escalation beyond our already overstretched security management.
If this protest continues to evolve into disorder (hopefully not) as a Nigerian citizen, we'll meet in court."
Nigerians blast Adamu for criticising Jack Dorsey
Many Nigerians on twitter lambasted Adamu for such an insensitive talk. They told him to count himself lucky that Jack Dorsey, who is the 'landlord' of Twitter, had allowed him to continue using the platform.
The words, 'landlord', 'Adamu' and 'Jack' have been trending on Twitter for the last three hours.
Reactions from Nigerians:
"Feed your kids breast and not Kunnu so they won't behave like Adamu Garba".
"The funniest thing I've seen this night is Adamu Garba threatening Jack on his own platform, saying he'll take him to court."
"Adamu Garba is a living witness that you can be verified on twitter and still be stupid. The funniest thing I saw last night was a tenant(Adams) threatening his landlord(Jack) in his own house. "
"Adamu a tenant on twitter dey threaten Jack the Landlord & Twitter CEO, for exercising his freedom of speech and association on #ENDSARS, wetin Anonymous no go see for America politics."