FEM: The beef/feud between Davido and Burna Boy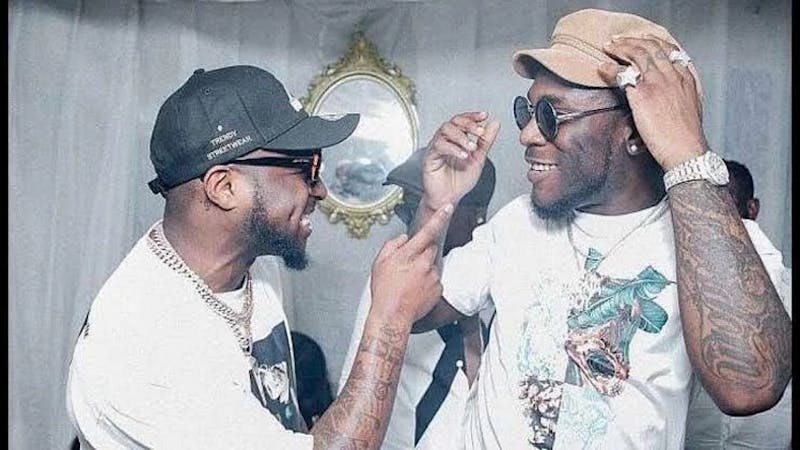 The relationship between Davido and Burna Boy has soured and is seemingly spiralling out of control. Find out what wrong between Davido and Burna Body, two top Nigerian singers.
There has been tension between Davido and Burna Boy, which has resulted in a series of beef and feud between the two. Davido and Burna recently clashed and exchanged blows in a Ghanaian club.
Many believe that Davido released the single FEM because of his haters, targeting Burna Boy.
Why Davido sang and released FEM
Obviously, Davido's latest hit song, 'FEM', is a direct reply to Burna Boy. The relationship between Davido and Burna Boy has been volatile for a while now.
Davido and Burna Boy have been quarrelling, and Davido's latest release, 'FEM', aims to reply to Burna Boy and score some points on the Davido and Burna Boy scoreboard.
Davido has been absent from social media since 3rd June 2020. He returned with his hit song 'FEM' on 20th September 2020.
In Yoruba language, Davido's native language, 'FEM' means 'Shut up.' Before the release of 'FEM', a short clip from the music video emerged on social media prompting fans to assume that the song will be titled 'Para'.
The anticipation was high because 'Para' means anger, reflecting the current climate - the beef or feud between Davido and Burna Boy.
Davido's 'FEM' targets Burna Boy
In 'FEM', Davido sang, "E be like you don dey talk too much, small talk you don dey talk talk, fem. O boy, you don dey do too much, small talk you don dey look who talk, fem…"
The obvious line that confirmed the song 'FEM' was a reply to Burna Boy was, "Then Odogwu say we 'Like To Party' just call me..." Burna Boy's first single was the smash hit, 'Like To Party.' Burna Boy is also known as Odogwu about one of his single titled 'Odogwu.'
Burna Boy Calls out Davido
After Davido released 'FEM', Burna Boy had no plans of going numb; Burna Boy may have called out Davido on two of his songs, 'Way Too Big' and 'Nor Fit Vex.'
Burna Boy also appeared to reference Davido on two songs, 'Way Too Big', 'Real Life' featuring Stormzy and 'Nor Fit Vex.' The lyrics were filled with rants about a perceived unknown enemy he accused of being jealous of his success.
At some point in 'Real Life' featuring Stormzy, Burna Boy said ", Dey Abuja, make I dey Lagos oh..." metaphorically, that line signifies distance.
How it soured between Davido and Burna Boy
On March 31, 2020, Burna Boy had a Q&A with his fans and announced that his new album, 'Twice As Tall', would be released in July 2020 with no date.
On May 4, 2020, Nigerian singer, Davido announced that his new album, A Better Time, would also be released in July. He also said that Tiwa Savage, Nicki Minaj and others will be featured on the album.
Then on May 22, 2020, Davido took to his Instagram stories to post that his album, 'A Better Time' would again drop in July.
Burna Boy later dropped a cryptic message, "July will be very funny, and I shall laugh accordingly." The message was a subtle Jab against Davido who announced his album will drop in July 2020.
That same day, Davido posted a photo of himself and Wizkid on Twitter. "The two greatest of all time, no cap." Davido later gave AyoAfrica, the person who edited the image the sum of 1 million Naira.
Burna Boy went ahead and posted: "You cannot play football, everybody knows you cannot play football, and you are an embarrassment to the team, but your daddy bought the football team…" on his Instagram stories.
Buna Boy's diss message directed at Davido
The beef or quarrel between Davido and Burna Boy was confusing at first; It was astonishing because, during Burna Boy's show in December 2018, Davido and the rest of the DMW family stormed the show and shut it down.
Davido had also congratulated Burna Boy on his Grammy Nomination earlier. However, Burna Boy finally returned to social media after losing the Grammy Award for the Best World Album to Angelique Kidjo.
Burna Boy alleged that some Artists were happy he lost the Grammy award.
He intimated that some of them were happy that he lost the Grammy Award. After that infamous May 22, 2020 moment where Davido and Burna Boy appeared to trade sporadic subs.
Aloma, an inner clique of Davido's 30BG camp and boss of Aloma Music Worldwide, took social media to threaten Burna Boy.
Aloma's words coincided with Davido's lyrics on, 'FEM.' David  sang, "Why dem come dey para for me?" and appearing to issue out threats, "Na why 30 BG, dem go para for you o…"
Davido also sang,
"Before the matter gets serious before the whole matter gets dangerous, you need to make sure you don't say too much coz if you say too much, I fit run up on you… I get men, I nor dey gather boys." I just dey live my life, man dem turn am to shoot on sight.
Why? E be say na me dey give them life… Make una tell am to call me…"
The root of the 'fight' between Davido and Burna Boy
When the May 22, 2020 issue began, reports allege that Davido and Burna Boy's problem began after Burna Boy didn't award Peruzzi a songwriting credit for his 2019 single, 'Pull Up.' 
That credit would have meant Peruzzi got Grammy-nominee right for African Giant.
As everyone knows, Peruzzi has been a family member of the DMW camp for about three years now.
After the songwriting debacle between Aristokrat Records act, Ceeza Milli and Burna Boy, where Eeeza Mill claimed he wrote Burna Boy's song 'On the low'.
Burna Boy, in a tweet later confirmed that he had never had help on any song except one song co-written by Peruzzi.
It is alleged that Burna Boy's song 'Pull Up' was co-written by Peruzzi and he wasnt accorded songwriter's right.
The tweet confirmed that Peruzzi was a co-writer of 'Pull Up.' 
There was also the case of 'Coming To America 2' after Davido got a place on the movie soundtrack over Burna Boy. 
It is alleged that Burna Boy feels slighted about actions around Davido getting the gig.
Davido was captured vibing to Burna Boy's '23' not minding the beef between him and Burna Boy as seen above.