Burna Boy: Biography, Net worth and life of the music Star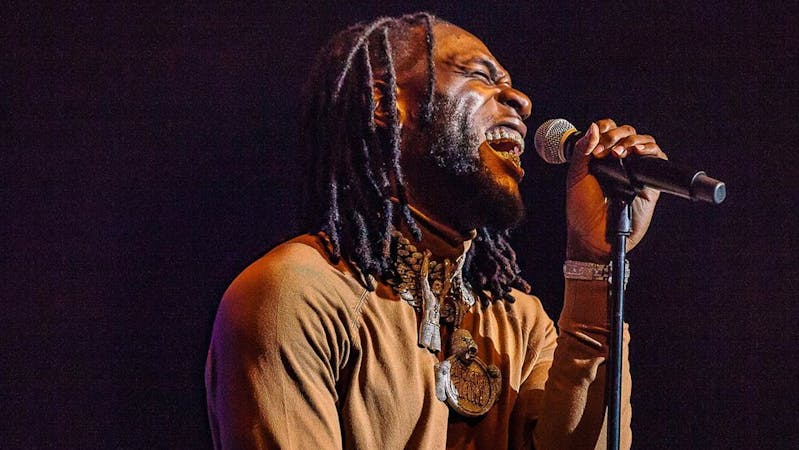 Burna Boy - The Nigerian Afro-fusion Singer
Burna Boy is a Nigerian afro-fusion singer and songwriter. He is the CEO of Spaceship Entertainment record label and enjoys both international and local popularity.
Personal Bio of Burna Boy

Birth name

Damini Ebunoluwa Ogulu

Date and place of birth

2 July 1991 (age 28)

Port Harcourt

Nigeria

Labels

Spaceship

Bad Habit

Atlantic

Warner Music

Alma mater

Corona Secondary School, Agbara
Burna Boy in 'odogwu' music video production
Burna boy's Life, Family, Date of birth and Background
Burna boy, whose birth name is Damini Ebunoluwa Ogulu, was born on the 2nd of July 1991 as the first child of Mr and Mrs Ogulu in Ahaoda, Rivers State, Nigeria.
His grandfather Benson Idonije once managed Fela Kuti. He started making music at the age of 10 after his classmate gave him the FuityLoops software for music production.
When Burna Boy was in secondary school, he formed a music band that performed at concerts. He went to London to further his education but dropped out because of his passion for music.
His love for music made his mother get him a job as an intern at a radio station. After work each day, Burna Boy would go to the studio to record songs. He always had his generator in his car's trunk as a back up should the studio's power supply go off.
Burna Boy's Rise to Fame
Burna boy became famous in the music industry in 2012, after he released his hit single 'Like to Party' from his debut album L.I.F.E. Although the album was debuted on the 13th of August 2013 by Aristokrat Records, five singles were released in 2012.
They sold 40,000 copies of L.I.F.E. on the first day of its release and sold its marketing rights to Uba Pacific for 10 million Naira. Leriq produced the album. Other artists featured in the collection are 2face, M.I, Reminisce, Wizkid, Timaya, and Olamide.
By listening to the songs, you could see apparent similarities to Fela Kuti's songs, King Sunny Ade and Bob Marley. Music critics applauded L.I.F.E. for being versatile as it ranked number 7 on the Billboard Reggae Albums Chart that year.
Burna Boy on music tour of his album, 'African Giant'
Burna Boy and Spaceship Entertainment
Burna boy left Aristokrat records in 2014, and in 2015 he established his record label named Spaceship Entertainment. He debuted his second album 'On a Spaceship' on the 25th of November 2015.
The multi-talented singer didn't stop there, he kept working hard to produce excellent pieces of music, and on the 26th of January 2018, we saw the result of his hard work, as he debuted his 3rd studio album – Outside.
Burna boy described Outside as a mixtape because it is a mix of Afro-beats, dancehall, reggae, and road rap. He featured J Hus, Lily Allen and Mabel (all foreign singers) in the album. 
Outside was produced by Leriq, Baba Stiltz, Jae 5, Juls, Chopstix, Steel Banglez, Fred Gibson, Phantom, and FTSE. The album ranked at number 3 on the Billboard Reggae Albums chart in February 2018.
Again, on the 21st of March 2019, Burna Boy released a 4-track collaborative EP titled Steel & Copper in which he collaborated with Los Angeles-based electronic duo DJDS.
Burna Boy performing in a stage show
Burna Boy's Endorsement Deals
As is the norm for Nigerian musicians to be brand ambassadors for companies, Burna boy is not left out as he has his share of endorsements. Currently, he is a brand ambassador to Globacom, Nigerian Breweries Plc, and Mortell Cognac.
Burna Boy's Net Worth
Aside from being an international music star, Burna Boy also has endorsements with companies like Globacom, Star Lager beer etc.
Also, tickets for his shows are always sold out, home and abroad.
So, it is expected that he has a high net worth. Although his net worth has not been officially stated, according to naijaquest.com, Burna Boy's net worth is estimated at $10million or more.
Burna Boy's Affluence and Cars
Burna Boy loves not just flashy but quality and luxurious things which reflect in his fleet of cars. Among many of his cars include a Mercedes Benz worth over 20 million Naira, a Range Rover Sports car worth over 18 million Naira, a G-wagon, and a Lexus salon 2015.
Lifestyle in pictures
Burna Boy's net worth is estimated at $10 million or more
Burna Boy's Album

| Album | Year |
| --- | --- |
| L.I.F.E | 2013 |
| On a Spaceship | 2015 |
| Outside | 2018 |
| African Giant | 2019 |
Burna Boy's Nominations
Nominated at The Headies for Next Rated in 2013.
Best R&B Single Nominee at the Headies 2014.   
Nominated L.I.F.E. at the Headies as the Best R&B/Pop Album in 2014.     
He was Hip Hop World Revelation of the Year nominee at the Headies 2014.
L.I.F.E. was nominated for the Album of the Year at the Headies 2014.      
Nigeria Entertainment Awards nominated him for the Best Pop Artist of the Year in 2015.              
Burna Boy's Awards
Best New Act of the Year at the Nigeria Entertainment Awards in 2013.
South Music Awards named his song "Like to Party" as Best Pop in 2013.
MTV Africa Music Awards honoured him as the Best New Act in 2014.
L.I.F.E. was named Best Album of the Year at the Nigeria Entertainment Awards in 2015.
He was nominated for YouTube artist on the rise in 2018.
'Ye' was named as Listener's Choice at the Soundcity M.V.P. Awards Festival in 2019.
At the Soundcity M.V.P. Awards Festival Ye was named as the Song of the Year in 2019.
He was named Best Male M.V.P. at the Soundcity M.V.P. Awards Festival in 2019.
African Artiste of the Year at the Soundcity M.V.P. Awards Festival in 2019.
Best International Act at the B.E.T. Awards 2019.
Apple Music Up Next Artist in July 2019.