Youth empowerment programmes in Nigeria 2021
With Nigeria's dwindling economy, a larger portion of the population, particularly the youths, face financial hardship. Fortunately, some empowerment schemes have been helpful. Here is a list of some youth empowerment programs in Nigeria in 2021.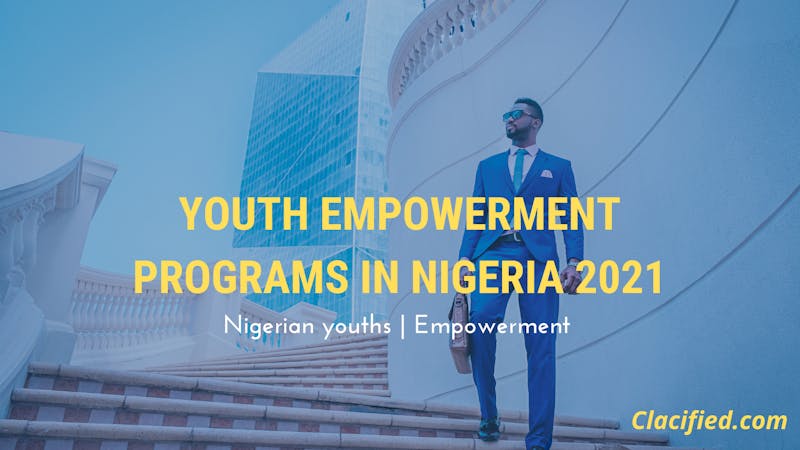 With Nigeria's dwindling economy, a more significant portion of the population, particularly the youths, face financial hardship. Fortunately, some empowerment schemes have been helpful. This article provides an extensive list of some youth empowerment programs in Nigeria in 2021.
Nigeria has a population of over 200 million in 2021. About 34 million of this population are youths between the ages of 18 to 29.
According to Statista, as of 2019, Nigeria's GDP was about $448.12bn. It is projected to reach $769.28bn. Despite this, the world bank reports that 7.4% of Nigeria's population are living in poverty.
The lack of job opportunities in the nation has caused an enormous increase in the crime rate. While unemployment is not a justification for crime, we can't ignore that it has caused many youths to resort to illegal ways of making money.
To help curb the menace of unemployment, the government and individuals have come up with different schemes, skill acquisition programs and youth empowerment programs to assist the youths to stand and cater for their needs.
The youth empowerment programs in Nigeria are set up as support systems for youths of the nation who need financial aids.
List of youth empowerment programmes in Nigeria
Top popular youth empowerment programmes in Nigeria include:
African Youth Empowerment Nigeria (AYEN)
Youth Initiative For Sustainable Agriculture in Nigeria (YISA)
1. N-Power
N-Power is a youth empowerment programme that was established under the administration of President Muhammadu Buhari in 2015.
N-Power provides a structure for the acquisition of skills as well as personal and career development, thereby enabling the youths to work and earn.
One of the aims of N-Power is to create an equitable distribution of resources to vulnerable citizens, particularly the youths. Its beneficiaries get job training and a monthly stipend of N30,000.
N-Power has two categories- the graduate category and the non-graduate category.
The N-Power graduate category includes programmes like N-Power Agro, N-Power Teach, N-Power Health and Tax. The non-graduate programmes include N-Power Build and Knowledge.
The N-Power programme was split into these categories to accommodate almost every eligible person for each category. Learn more about N-Power recruitment.
2.Youth Enterprise with Innovation in Nigeria (Youwin)
Just like N-Power, Youwin is a youth development/empowerment scheme geared towards empowering the young Nigerian. The Goodluck Jonathan administration established it.
Youwin provides financial support to businesses or individuals with outstanding business plans. It supports the goals of aspiring entrepreneurs.
Youwin offers its empowerment in the form of grants. However, every beneficiary is expected to have a business plan for a company that has been registered with the Corporate Affairs Commission (CAC). Read up on how to register your business with CAC.
3. Tony Elumelu Foundation Entrepreneurship Program (TEF)
Unlike Youwin and N-Power, TEF is a privately owned empowerment program founded by one of the richest entrepreneurs in Nigeria- Tony Elumelu.
Tony Elumelu is a popular business tycoon with a networth of up to $700 million. He set up its multicycle empowerment scheme as a way to motivate young African entrepreneurs to come up with innovative business ideas. He goes further to offer them grants to bring those business ideas to life.
After submitting business proposals, entrepreneurs who participated and got selected receive a seed fund of $5000 (approximately 2 million naira).
4. Youth Empowering People (YEP)
YEP is a youth empowerment programme that promotes skill acquisition, employment and entrepreneurship. It has made many youths self-employed and self-developed.
This initiative has helped shape young people's mindset in the country, particularly those in the Niger Delta. It has given youths jobs, thereby reducing the rate of poverty and unemployment.
5. Graduate Internship Scheme (GIS)
As its name denotes, GIS is an internship scheme that targets graduate who are having it difficult with securing a job after graduating from the high institution.
GIS was established in 2012 and is fully funded by the Federal Government of Nigeria. It offers empowerment to about 50,000 Nigerian graduates every year.
There are three major goals of GIS- to empower youths, to build up manpower for Nigeria and to provide young Nigerians with a bright future.
6. African Youth Empowerment Nigeria (AYEN)
AYEN is a youth empowerment programme that enables youths' development so that they can be a functional part of the society.
African Youth Empowerment Nigeria programmes include workshops, seminars and vocational programs among others.
Asides training, AYEN gives financial and educational support to young people, ensuring that children go to school and are in their classes. They make use of local donors and cooperative organizations.
7. TraderMoni
The Federal Government of Nigeria also funds this empowerment programme. It empowers entrepreneurs by offering them interest-free loans.
This means under the TradeMoni scheme; you can get loans without worrying about interest rates (as the programme is not for profit-making).
Also, you don't need to provide collaterals before you can get a loan. TraderMoni offers money for a business startup to up to 5 million Nigerians.
8. Youth Initiative for Sustainable Agriculture in Nigeria (YISA)
YISA recognises that agriculture is one of the most lucrative business people can engage in and wants to get the youths involved. Thus, the YISA scheme offers encouragement to youths who are venturing into the business of agricultural production.
YISA empowers youths in the field of agriculture by giving them the basic things they need to get started in the agricultural business.
9. Presidential Youth Entrepreneurship Support (P-YES)
The Presidential Youth Entrepreneurship Support is another scheme set up to address unemployment in the country and support entrepreneurship amongst youths.
The Bank of Industry (BOI) carries out this programme in collaboration with the minister of youth and student affairs. The programme trains youths and awards them loans to start-up small and medium enterprises.
There is an age limit for enrollment into the P-YES programme. Beneficiaries must be between the ages of 18 and 35. You will need to provide a valid means of identification and an official endorsement letter, among other things.
10. Youth Empowerment and Development Initiative (YEDI)
YEDI is a youth empowerment scheme for Nigerians. It was founded in 2011. YEDI is an affiliation of CSI+, which is a consultation service provider.
CSI+ offers consultation services to international and corporate bodies on social investments, and with YEDI incorporated, the program uses sports as an avenue to empower young people. Beneficiaries are sports enthusiasts aged between 10 to 24 years.